Collins 365 Days of Happy (Hardcover)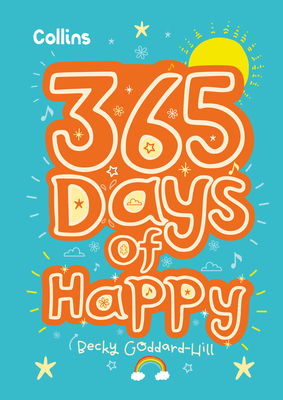 Description
---
Support children's emotional well being with this beautiful pocket-sized gift book
Boost happiness with encouraging quotes, positive thoughts and simple activities – one for every day of the year.
Award-winning blogger, Becky Goddard-Hill offers:
inspirational quotes to help brighten children's moods
positive affirmations to build confidence and self esteem
simple activities to do throughout the year
It's the perfect book to open at the beginning of the day or before bed to help create a positive mindset.
Also available:
365 Days of Calm (978-0-00-854522-2)
365 Days of Kind (978-0-00-854523-9
About the Author
---
Award-winning blogger and author of Create Your Own Calm, Becky Goddard-Hill is a former social worker and child development trainer. She also holds a postgraduate diploma in Psychotherapy and is a certified life coach. She now runs 6 blogs, all highly ranked within the UK, predominantly on creative family life, supportive communities and emotional wellbeing.