The Most Dangerous Animal of All: Searching for My Father . . . and Finding the Zodiac Killer (Paperback)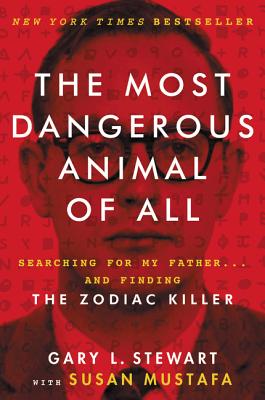 $16.99

Usually Arrives in 3-5 Days
Description
---
An explosive and historic New York Times bestseller of true crime and an emotionally powerful and revelatory memoir of a man whose ten-year search for his biological father leads to a chilling discovery: His father is one of the most notorious-and still at large-serial killers in America—THE BASIS FOR A 4-PART FX DOCUMENTARY MINISERIES.

"I promise that you've never read anything like The Most Dangerous Animal of All. Mesmerizing from the first page, the story includes a shattering surprise that will sear itself in your memory. Be prepared to read non-stop; this really is a book you won't be able to put down."  —Jeff Guinn, author of Manson: The Life and Times of Charles Manson
Soon after his birthmother contacted him for the first time at the age of thirty-nine, adoptee Gary L. Stewart decided to search for his biological father. It was a quest that would lead him to a horrifying truth and force him to reconsider everything he thought he knew about himself and his world.

Written with award-winning author and journalist Susan D. Mustafa, The Most Dangerous Animal of All tells the story of Stewart's decade-long hunt for his father following a complex trail of startling twists and connections. Combing through government records and news reports and through conversations with his father's relatives and friends, Stewart turns up a host of clues, including forensic evidence, identifying his father as one of the most infamous and still-wanted serial killers in American history.
About the Author
---
Gary L. Stewart is vice president of Delta Tech Service of Louisiana. More than a decade ago, Gary began writing a journal, chronicling every detail of his search for his father and his own identity. That journal served as the basis for The Most Dangerous Animal of All.
Susan Mustafa is an award-winning author and journalist. She is the coauthor of Dismembered, written with Sue Israel, and Blood Bath, written with Special Prosecutor Tony Clayton and Sue Israel.
Praise For…
---
"I promise that you've never read anything like The Most Dangerous Animal of All. Mesmerizing from the first page, the story includes a shattering surprise that will sear itself in your memory. Be prepared to read non-stop; this really is a book you won't be able to put down." — Jeff Guinn, author of Manson: The Life and Times of Charles Manson
"Convincing....The author painstakingly pieces together over a decade's worth of personal research and verbatim interviews with family, friends and law enforcement, then goes further to scrutinize and compare handwriting samples, police sketches and photographs, all bearing uncanny resemblances to recorded documentation from the Zodiac files." — Kirkus