Unconditional Love: A Guide to Navigating the Joys and Challenges of Being a Grandparent Today (Paperback)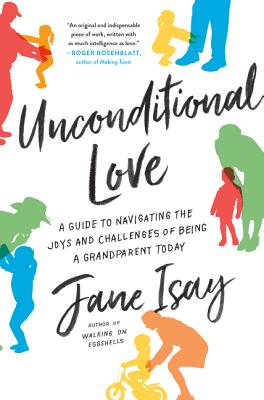 Description
---
A beautiful meditation on the joys of being a grandparent and a practical guide to help you and your adult children make the most of your relationship with a grandchild.
For many grandparents, a grandchild offers a second chance to become the parent they didn't have the time or the energy to be when raising their own children. Being a grandparent, family relationships expert Jane Isay argues, is the opportunity to turn missed opportunities into delight.
Drawing on her personal experience, dozens of interviews, and the latest findings in psychology, Isay shows how a grandparent can use his or her unique perspective and experience to create a deep and lasting bond that will echo throughout a grandchild's life. She explores the realities of today's multigenerational families, identifying problems and offering solutions to enhance love, trust, and understanding between grandparents, parents, and grandchildren. She also offers a wealth of practical advice, from when to get involved, when to stay away, and how to foster a strong relationship when you're separated by long distance.
Unconditional Love advocates for honest conversation, thinking in the long run and healing breaches in order to be together, understanding that most of us try to do our best and need to be forgiven if we fail. Isay argues that secrets and surprises may tilt the boat but won't necessarily sink it and that grandparents and their grown children are happier when they give each other the benefit of the doubt. Most importantly, she writes, the advent of grandchildren offers families the opportunity for healing and redemption—if we seize the moment. In lovely prose and through delightful stories, Isay shows us how we can.
A great gift for grandparents-to-be and a wonderful resource for all, Unconditional Love is a beautiful and psychologically astute look at what it means to be an engaged grandparent.
About the Author
---
Jane Isay is the author of Secrets and Lies, Walking on Eggshells, and Mom Still Likes You Best. As a book editor for more than forty years, she discovered Mary Pipher's Reviving Ophelia, commissioned Patricia T. O'Conner's bestselling Woe is I and Rachel Simmon's Odd Girl Out, and edited such nonfiction classics as Praying for Sheetrock and Friday Night Lights. She lives in New York City. www.janeisay.com
Praise For…
---
"Unconditional Love is the new bible for any grandparent looking for ways to support and connect with their children and grandchildren. In clear, compassionate prose, Isay is a wise guide through intergenerational ups and downs. Need to know what to say and when to zip it? How to help? Isay has the answers. I can't wait to give it to my mother!" — Rachel Simmons, New York Times bestselling author
"Unconditional Love is an up-to-date guide to grandparenting in the 21st century that also offers readers the deepest and most universal wisdom. Isay excels at writing about the complexity and meaning of relationships. She unspools her stories of grandparenting in a way that increases our moral imaginations and our capacities for joyous and profound family experiences. Her writing is clear, cogent and filled with psychological insights." — Mary Pipher, #1 New York Times Bestselling author of Letters to a Young Therapist, Reviving Ophelia and The Green Boat
"For anyone soon to become a grandparent, this practical book will answer many questions about what to do when the baby arrives; for current grandparents, it confirms what they know: being a grandparent is, for the most part, awesome. Research and individual stories explain the special position of grandparents in a child's life in a book that is unquestionably functional." — Kirkus
"[A] lovely treatment of a widely shared experience… thoughtful and inspiring... this volume would make an ideal present from parents-to-be to their own folks." — Publishers Weekly