Dragon Teeth: A Novel (Mass Market)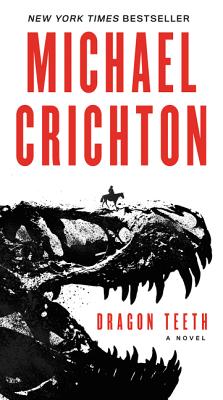 $9.99

Usually Arrives in 3-5 Days
Description
---
Not since Jurassic Park has digging up the past been so dangerous
The legendary #1 New York Times bestselling author of Jurassic Park returns to the world of paleontology in this recently discovered novel. . . .
The year is 1876. Warring Indian tribes still populate America's western territories, even as lawless gold-rush towns begin to mark the landscape, and two monomaniacal paleontologists pillage the Wild West, hunting for dinosaur fossils while surveilling, deceiving, and sabotaging each other.
Into this treacherous territory plunges William Johnson, a student who has joined world-renowned paleontologist Othniel Charles Marsh on his latest expedition. But when Marsh becomes convinced that William is spying for his nemesis, Edwin Drinker Cope, he abandons him in Cheyenne, Wyoming, a locus of crime and vice.
William joins forces with Cope and soon stumbles upon a discovery of historic proportions. With this extraordinary treasure, however, comes exceptional danger, and Johnson's newfound resilience will be sorely tested…
"Crichton delivers."
   —USA Today
About the Author
---
Michael Crichton (1942-2008) was the author of the bestselling novels The Terminal Man, The Great Train Robbery, Jurassic Park, Sphere, Disclosure, Prey, State of Fear, Next and Dragon Teeth, among many others. His books have sold more than 200 million copies worldwide, have been translated into forty languages, and have provided the basis for fifteen feature films. He wrote and directed Westworld, The Great Train Robbery, Runaway, Looker, Coma and created the hit television series ER. Crichton remains the only writer to have a number one book, movie, and TV show in the same year.
Daniel H. Wilson is a Cherokee citizen and author of the New York Times bestselling Robopocalypse and its sequel Robogenesis, as well as ten other books. He recently wrote the Earth 2: Society comic book series for DC Comics. Wilson earned a PhD in Robotics from Carnegie Mellon University, as well as master's degrees in Artificial Intelligence and Robotics. He has published over a dozen scientific papers and holds four patents. Wilson lives in Portland, Oregon.
Praise For…
---
"Among all Crichton's novels, it's one of his best, a beautifully detailed, scientifically engrossing, absolutely riveting story." — Booklist, starred review
"A totally unexpected flashback to the days when Crichton was central to the entertainment world.... If you like a good Crichton paleo-action story incorporating real historical figures, you'll like this one." — New York Times
"Rollicking.... A page-turner." — Wall Street Journal
"Bears all the narrative traits of its techno-thriller ancestor, Jurassic Park. It's a fun and diverting romp.... Dragon Teeth is filled with colorful Wild West characters... and Crichton writes vividly." — Washington Post
"A fast-paced page-turner that showcases Crichton's singular ability to combine action, science, and history into one fantastic story. Fans will be thrilled, while new readers will discover what makes his books so enthralling." — Library Journal
"Dragon Teeth isn't 'literary' fiction. Plain and simple, it's Crichton fiction — a fun, suspenseful, entertaining, well-told tale filled with plot twists, false leads and lurking danger in every cliffhanging chapter. When you're done, you'll wish for more." — USA Today (four stars)
"A lean, propulsively readable adventure story, filled with seamlessly interwoven exposition and sharp dialogue. It's easily the best thing with Michael Crichton's name on it since 1999's Timeline.... Linking the word 'dinosaur' and the name 'Michael Crichton' is about as sure-fire a recipe for magic as the modern publishing world can muster." — Christian Science Monitor
"Dragon Teeth is an effective, page-turning combination of historical fact and fast-paced fiction.... A distinct pleasure to read.... [Readers will] be anxious to know if there might be more unpublished treasures waiting in the Crichton Archives to be excavated and brought forward for our reading delight." — New York Journal of Books
"A page-turner." — NBC 2
"On display... are [Crichton's] many gifts as a popular novelist and Dragon Teeth is a gripping and entertaining read." — Sunday Times
"Any new Crichton novel is a cause for celebration." — Pittsburgh Post-Gazette
"<i>Dragon Teeth</i> is history class made palatable thanks to thrilling storytelling.... Why wait for the TV adaptation when this terrific book is already on the shelves?" — Fort Worth Star Telegram
"A good story with a compelling plot and plenty of twists and turns to keep the reader guessing." — Oklahoma City Oklahoman
"The book is packed with action, combining impeccable research and storytelling to offer an unforgettable excursion into classic Crichton territory." — Raleigh News & Observer
"Crichton was always a terrific storyteller, and Dragon Teeth is a terrific story." — Seattle Times
"Both thrilling and thought-provoking." — BookPage
"Entertaining." — Publishers Weekly
"Crichton is a virtuoso." — New York Times
"A master." — Los Angeles Times
"A terrific novelist. . . . He could make most readers lose sleep all night and call in sick the next day." — San Francisco Chronicle
"Crichton's books [are] . . . hugely entertaining." — New York Times Book Review