The Good Mothers: The True Story of the Women Who Took on the World's Most Powerful Mafia (Paperback)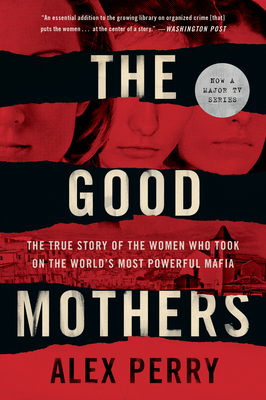 $19.99

Usually Arrives in 3-5 Days
Description
---
NOW A MAJOR TV SERIES
The electrifying, untold story of the women born into the most deadly and obscenely wealthy of the Italian mafias – and how they risked everything to bring it down.
The Calabrian Mafia—known as the 'Ndrangheta—is one of the richest and most ruthless crime syndicates in the world, with branches stretching from America to Australia. It controls seventy percent of the cocaine and heroin supply in Europe, manages billion-dollar extortion rackets, brokers illegal arms deals—supplying weapons to criminals and terrorists—and plunders the treasuries of both Italy and the European Union.
The 'Ndrangheta's power derives from a macho mix of violence and silence—omertà. Yet it endures because of family ties: you are born into the syndicate, or you marry in. Loyalty is absolute. Bloodshed is revered. You go to prison or your grave and kill your own father, brother, sister, or mother in cold blood before you betray The Family. Accompanying the 'Ndrangheta's reverence for tradition and history is a violent misogyny among its men. Women are viewed as chattel, bargaining chips for building and maintaining clan alliances and beatings—and worse—are routine.
In 2009, after one abused 'Ndrangheta wife was murdered for turning state's evidence, prosecutor Alessandra Cerreti considered a tantalizing possibility: that the 'Ndrangheta's sexism might be its greatest flaw—and her most effective weapon. Approaching two more mafia wives, Alessandra persuaded them to testify in return for a new future for themselves and their children.
A feminist saga of true crime and justice, The Good Mothers is the riveting story of a high-stakes battle pitting a brilliant, driven woman fighting to save a nation against ruthless mafiosi fighting for their existence. Caught in the middle are three women fighting for their children and their lives. Not all will survive.
About the Author
---
Alex Perry has written for The New Yorker, Time magazine, Newsweek, The Daily Beast, Roads & Kingdoms, and others. He is the author of several nonfiction books and e-books including The Rift, Lifeblood, and Falling Off the Edge. He has earned numerous journalism awards, including honors from the Society of Publishers in Asia, the Foreign Press Association in London, and the Vietnam Veterans Memorial Fund in Washington. A native of Philadelphia, he lives with his family near London.
Praise For…
---
"An essential addition to the growing library on organized crime [that] puts the women… at the center of a story… Perry keeps the emphasis on the risks taken by a brave few Calabrian women [who]… shattered the myth of mafia invulnerability… Pesce [is] a character worthy of Elena Ferrante." — Washington Post
"Highly compelling… An impossible-to-put-down page-turner revealing the Mafia makeup and three courageous women who bore witness to save others." — Kirkus Reviews (starred review)
"Journalist Perry has crafted an enormously significant and compelling look at the modern world of the Italian mafia in this brilliant work… A staggeringly impressive work of investigative reporting… A life changing read." — Booklist (starred review)
"Even today precious little is known about the 'Ndrangheta. Perry's account is wrenching and thorough." — Christian Science Monitor
"Perry has ably pieced together a number of remarkable stories. His focus … [in his] fast-moving book … is on the women who, sickened by years of abuse and bullying, decided that they would take no more." — Times Literary Supplement (London)
"The painful and dangerous process of these women's rebellion against the family makes a gripping and heart-breaking narrative." — The Observer (London)
"There has truly never been a better time to read about the brave women who brought down one of the most powerful organized crime outfits." — Bustle
"Alex Perry takes us in to the patriarchal, ultra-violent world of the 'Ndràngheta, Calabria's powerful, drug-dealing mafia, and the stories of the women who have defied its iron grip." — LitHub.com
TWITTER PRAISE UPON RELEASE OF NEW YORKER EXCERPT: "Both harrowing and heartening ... and told with Alex Perry's usual verve." — Tom Burgis, Financial Times
"Brilliant read." — Devika Bhat, The Times (London)
"Wow, this is something special." — Nicholas Schmidle, The New Yorker
"[A] tense, thriller-like examination of the 'Ndrangheta's ruthless modus operandi and the barbaric enforcement of its code of silence… Good mothers, seriously gutsy women." — Sydney Morning Herald
"The Rift is an immensely readable, shocking and important book. An ambitious and controversial approach to answering some of the thorniest questions about Africa's contradictions and its epic quest for freedom."  — Jeanette Zwart, Shelf Awareness
"Everything I think, said better than I think it." — Patrick Neate, author of Musungu Jim on The Rift
"A sharp-eyed look at contemporary Africa. Mr. Perry's ability to capture the complexities of stories in which there are no clear heroes nor outright villains echoes again and again. Written with a clear eye after criss-crossing the continent, he offers telling glimpses of an Africa that defies stereotyping." — The Economist on The Rift
"An epic, rich, endlessly surprising narrative of a fast-changing Africa by one of the few Western journalists to have spent enough time there to understand it. Calls to mind the best African writing of Ryszard Kapuscinski."  — Douglas Rogers, author of The Last Resort: A Memoir of Zimbabwe on The Rift
"[A] stunning book about the past, present, and future of Africa.... Candid, smart, and self-aware, this work is an impressive accomplishment that does more to give Western readers context for Africa's current condition than any book in recent memory." — Publishers Weekly (starred review) on The Rift
"Exploring modern Africa in all of its complexities...Perry's arguments about the often deleterious effects of outsiders augment some of the scholarly literature by providing a human face to usually well-intentioned but misguided interlopers. A welcome addition to our understanding of Africa." — Kirkus Reviews on The Rift
"This little gem of a book ... has an important story to tell, and Perry tells it with precision and gusto. As dramatic as anything you will read in fiction." — The New York Times on The Rift
"Hoping Melania reads this story..." — Joan Walsh, The Nation
"Incredible."  — Adam Serwer, The Atlantic
"I am inordinately excited to read this book. This is ... *incredible*." — Erin Ryan, The Daily Beast
"So, so good." — Tim Selloh, NBC News
"This is fantastic." — Alberto Nardelli, Buzzfeed