Galaxy Girls: 50 Amazing Stories of Women in Space: A Gift for Teens Who Love NASA (Hardcover)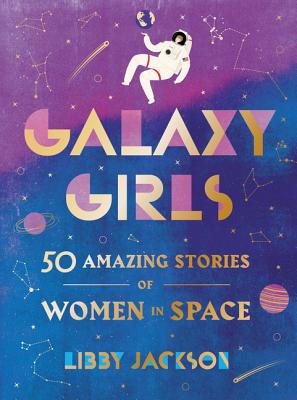 $19.99

Usually Arrives in 3-5 Days
Description
---
A Gift for Teens Who Love NASA

Filled with beautiful full-color illustrations, a groundbreaking compendium honoring the amazing true stories of fifty inspirational women who helped fuel some of the greatest achievements in space exploration from the nineteenth century to today—including Hidden Figure's Mary Jackson and Katherine Johnson as well as former NASA Chief Astronaut Peggy Whitson, the record-holding American biochemistry researcher who has spent the most cumulative time in space.
When Neil Armstrong stepped off the ladder of the lunar module, Eagle, he famously spoke of "one small step for man." But Armstrong would not have reached the moon without the help of women. Today, females across the earth and above it—astronauts and mathematicians, engineers and physicists, test pilots and aerospace psychophysiologists—are pushing the boundaries of human knowledge, helping us to understand the universe and our place in it. Galaxy Girls celebrates more than four dozen extraordinary women from around the globe whose contributions have been fundamental to the story of humankind's quest to reach the stars.
From Ada Lovelace in the nineteenth century to the "colored computers" behind the Apollo missions, from the astronauts breaking records on the International Space Station to the scientific pioneers blazing the way to Mars, Galaxy Girls goes boldly where few books have gone before, celebrating this band of heroic sisters and their remarkable and often little known scientific achievements. Written by Libby Jackson, a leading British expert in human space flight, and illustrated with striking artwork from the students of London College of Communication, Galaxy Girls will fire the imaginations of trailblazers of all ages.
About the Author
---
Libby Jackson is one of Britain's foremost human spaceflight experts, and is the Human Spaceflight and Microgravity Program Manager for the UK Space Agency. Libby's career working in the space industry began when she applied for work experience at NASA at age seventeen from her secondary school in Kent. Weeks later she was sitting in mission control in Houston. Ten years later, and after completing a physics degree at Imperial College, she was back working at mission control for the European Space Agency in Munich. She was an instructor, a flight controller and finally a Columbus flight director on missions to the International Space Station. From 2014 to 2016, she managed the hugely successful UK Space Agency education and outreach program that supported Tim Peake's mission.