The Unfolding: An Invitation to Come Home to Yourself (Hardcover)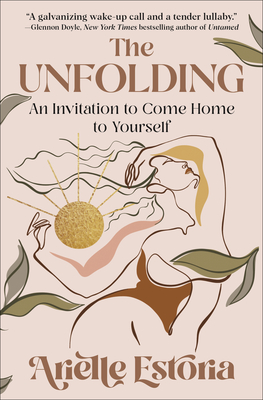 $27.99

On Our Shelves Now - May Be on Hold for Another Customer
Description
---
"A moving, fresh, unique poetry collection and a generous invitation into the mind of the poet. Both a galvanizing wake-up call and a tender lullaby." — Glennon Doyle, author of the #1 New York Times bestseller Untamed
"What I love about Arielle's writing is that she takes readers on this journey step by step, filled with wisdom and grace. This book will help anyone seeking to unfold into their bloom." — Morgan Harper Nichols, author of All Along You Were Blooming and Peace is a Practice
In this beautiful collection of poems, essays, and meditations, Arielle Estoria tenderly reveals the places in her life where she has been broken open and mended back together in new ways. In doing so, she shows each of us how when we walk through our own process of "unfolding," though it may be uncomfortable at times, there is light on the other side. Let these words guide your soul, and return home to the person you were always meant to be.
About the Author
---
Arielle Estoria is a poet, speaker, and actor. She co-authored two collections of poetry, Vagabonds and Zealots and Write Bloody Spill Pretty, and has shared her work through spoken word and keynote talks with companies such as Google, Lululemon, Apple, and more. She has emceed conferences such as the Yellow Conference and led writing and self-acceptance workshops. She lives in Los Angeles with her husband.
Praise For…
---
"There is an enduring honesty in Estoria's words that is hard to come by. She welcomes you into places within herself that always seem to serve as portals to our own homecoming. With poetry and reflection, Estoria reminds us of the imperative of our unfolding in a world that wants us to remain small."  — Cole Arthur Riley, New York Times bestselling author of This Here Flesh
"If loving and embracing yourself for who you are feels impossible, pick up this book! Arielle invites you to step into your power through her inspiring prose and beautiful reflections." — Jenna Kutcher, New York Times bestselling author of How Are You, Really?


"Arielle's words are a balm. Somehow they soothe, but also light the fire for growth. That's an achievement." — Jedidiah Jenkins, New York Times bestselling author of To Shake The Sleeping Self and Like Streams to the Ocean
"Open up to any page and discover inspiration, honesty, and wisdom. The Unfolding will leave you feeling uplifted and open to discovering more about yourself." — Justina Blakeney, author of The New Bohemians and founder of Jungalow
"With the beauty, honesty, and transparency of a true artist, Arielle invites us to shed what no longer serves us and come alive to who we're meant to be. The Unfolding reminds us that exploration is not our enemy, and that wonder can be found in our wandering." — Danielle Coke, Oh Happy Day! illustrator and activist
"What a refreshing, deep breath of a book! Through poetry, art, story, and prose, Arielle beautifully embodies the freedom, invitation, and goodness of full awakening." — Sarah Bessey, New York Times bestselling author of A Rhythm of Prayer and Jesus Feminist
"What I love about Arielle's writing is that she takes readers on this journey step by step, filled with wisdom and grace. This book will help anyone seeking to unfold into their bloom." — Morgan Harper Nichols, author of All Along You Were Blooming and Peace is a Practice
"The Unfolding is a moving, fresh, unique poetry collection and a generous invitation into the mind of the poet. Both a galvanizing wake-up call and a tender lullaby." — Glennon Doyle, author of the #1 New York Times bestseller Untamed


"Arielle is a sage within our generation and she's written a guidebook for anyone who has ever felt lost or needed a reminder that breaking is not the end of the story." — Hannah Brencher, author of Fighting Forward and Come Matter Here
"Arielle gently invites us to explore the uncharted places of our own lives, to face them with courage and vulnerability, and perhaps even discover an unfolding of our own." — Jo Saxton, author of Ready to Rise
"Perfectly balances the raw, unpolished, guttural feelings with the eloquence and refined beauty of one who has mastered poetry. This is a must read." — Propaganda, author of Terraform
Yahoo! — "This stunning debut is as tender as you imagine it to be in addition to adding an extra dose of ecstatic joy to remind you how real-life becoming feels. A poetry book full of words to hold sacredly in your soul."
"In a voice that is at once gentle and strong, Arielle shows that our process of becoming, while at times uncertain, is as beautiful as a blooming flower." — Dr. Hillary L McBride, author of The Wisdom of Your Body
"In Arielle's raw recounting of her own journey, she beautifully mirrors our true worth and value that we are invited into remembering and finding home within ourselves." — Ruthie Lindsey, author of There I Am
"Arielle's words are breathtakingly beautiful and inspiring. The Unfolding is like a healing roadmap, nourishment for those who are thirsty for hope, growth and awakening." — Minaa B., LMSW
"Arielle tenderly offers us a richness of grace only seen from the mystics of the old. Her eloquence of story and depth of wisdom lovingly unfolds us into her process, awakening liberation in each of us." — William Matthews, music director at New Abbey
"The Unfolding is a beautiful invitation to come back to yourself, trust your inner wisdom, and just take a breath." — Jamie Varon, author of Radically Content