Unlocked: Embrace Your Greatness, Find the Flow, Discover Success (Hardcover)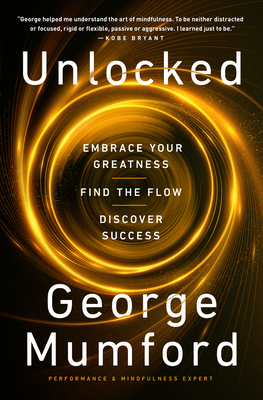 $29.99

On Our Shelves Now - May Be on Hold for Another Customer
Description
---
A world-renowned psychologist and mindfulness performance expert who has helped superstars such as Michael Jordan and Kobe Bryant transform their careers, offers proven strategies for unleashing our innate strengths, avoiding burnout, and discovering enduring success.
We all strive to find flow, when our skills, expertise, and mindset are aligned and we can perform, unimpeded, at the highest level. George Mumford calls this being "unlocked"—a state anyone can achieve at any time. A psychologist trained in the field of mindfulness and personal development expert, Mumford has decades of experience helping a wide range of individuals—from CEOs and NBA superstars to the chronically underrepresented, those experiencing homeless and fighting addiction—contend with the challenges and opportunities inherent in life. Now, in this life-changing guide, he shares his wisdom with all of us, no matter our background or socioeconomic status, brilliantly guiding us on a path to discovering and harnessing our own individual potential.
"People have called me the 'performance whisperer,'" Mumford writes. "I coax and tease. I 'whisper' to the stubborn, oppositional part of us that resists growth, that refuses to break old habits. To unlock the greatness within, we have to crack that shell to access what's underneath. It can be a difficult, painful process, much the way performance-training stretches our body and the limits of our endurance. The mental training, I do with athletes, prisoners, teachers, college administrators, businesspeople and others has a similar aspect. It shakes us out of the familiar and puts us in touch with deeper aspects of ourselves."
Chock full of tangible insights, unexpected ancient wisdom, and inspiring stories from his clients and his own life—from his darkest moments of addiction and inner turmoil to training some of the best athletes in the world—Unlocked is the culmination of Mumford's life's work; it helps us discover our gifts. To sustain success no matter the game or the stakes. To step into the power within us and embrace the freedom of being unlocked.
About the Author
---
George Mumford is a psychologist and elite performance expert who has worked with athletes like Michael Jordan and Kobe Bryant. He is the author of the groundbreaking The Mindful Athlete, has consulted with high school, college, and Olympic athletes, inmates, and corporate executives, and is a sought-after public speaker at both business and athletic conferences, nationally and internationally.
Praise For…
---
"Powerful lessons here for tapping into your own intrinsic capabilities and finding the confidence and clarity to let them radiate in the world in the face of the inevitable obstacles. George Mumford is a trustworthy guide when it comes to using those energies to live the life that is yours to live and thrive along the way." — Jon Kabat-Zinn, Ph.D.
"In Unlocked, George Mumford shares his life's journey and wisdom with intimacy, courage and kindness. He inspires us to uncover and discover our own inner goodness, greatness, and our true nature. His compelling stories invite us to show up authentically for our precious lives, right now! His enthusiasm reminds us that we all have the capacity to continue to learn, grow and serve. This book is a guide that encourages all of us to go beyond our limits and open to inner freedom." — Madeline Klyne, Resident Teacher, Cambridge Insight Meditation Center
"George Mumford is in a class of his own. He has triumphed over personal challenges to become the winningest performance coach in the world by focusing on our humanity and our deep potential. His unique message connects with readers and moves us from inspiration to action. This book is a must-read for anyone looking to tap into their greatness to make a real difference in their lives." — Jill Wesley, Founder, Science + Soul of Speaking
"Deep down, many of us, myself included, may sometimes fear that we kind of suck. But George Mumford sees right through that— through our hangups, our armor, our scar tissue, to our potential to be significantly more awesome than we already are. If you're going to pick a performance coach, why not go with the guy who's worked with Shaq and Kobe, with executives and inmates, with cops and kids? George is the maestro at getting people to up their game through training the mind. Highly recommend." — Dan Harris, Author and Host, Ten Percent Happier with Dan Harris
"What is the mystery of being in the moment? How does one prepare to find IT - the "flow" and continue to stay connected? George Mumford has faithfully stood in that space to talk about the mystery of the moment to teams and individuals. He has remained steady in his message and continues to develop accessible ways to communicate the message of being mindful and teaching mindfulness." — Phil Jackson
"George helped me understand the art of mindfulness: to be neither distracted or focused, rigid or flexible, passive or aggressive. I learned just to be." — Kobe Bryant, Five-Time NBA Champion
"A powerful reminder that connecting to the true essence of who we are, living it genuinely, and sharing it with others is one of the best gifts we can offer to the world. George Mumford creates a compelling and practical framework for this journey -- to unlock and cultivate a peaceful and authentic flow state within ourselves and in life." — Sharon Salzberg, Author of Lovingkindness and Real Change
"In this inspiring book, George Mumford shows us how to cultivate a mindset conducive to exceptional performance. The key is presence: our mindful awareness allows us to transcend obstacles and unlock the power of our fullest potential." — Tara Brach, Author of Radical Acceptance and Trusting the Gold
"Brilliant, brave, heartfelt! George's journey uplifts and inspires joy, tears, and ah-ha insights. Transcend your struggles today and unlock your own brilliance." — Jack Kornfield, Author of A Path With Heart
"What [George] teaches in this book is relevant to all of us regardless of our demographics and beliefs… Truth be known, George is not a good author...he's an extraordinary one because he lives by example what he is teaching us in this book. With deep authenticity, he continues to unlock his own mind just as he will help you to unlock yours." — Jerry Lynch, PhD, Author, Leadership and Performance Psychologist
"For decades, George Mumford has been an important influence in the development of sport psychology. In Unlocked, he tells his wondrous story of self-discovery and a joy that's born to last. This is a beguiling book, a love story really, filled with revelations of the greater life which, in spite of our many ups and down, waits always to be born in us." — Michael Murphy, Founder of the Esalen Institute Author of The Future of the Body and Golf in the Kingdom
"A masterpiece; George just wrote the new manual on personal liberation, and true freedom. Filled with tremendous insight, personal experience, and wisdom—George's love and concern for humanity radiates outwardly on each page of this book." — Nancy Legan, Transformation Coach
"For thirty-five years, I've watched my treasured friend George unlock his brilliance as he teaches us to unlock our own. I watched George teach my grandson, Owen, the secret of free-throw success; this book brings the magic of George's work with kids and grownups into your life. Read it - and be unlocked!" — Trudy Goodman, Founding Teacher, InsightLA
"Readers looking for new paths to inner growth and mindfulness as well as basketball fans who want to know more about how players like Kobe Bryant reached such great performance goals will find something useful in this book...A great addition to any library's nonfiction collection, especially for sports fans." — Library Journal