The Book of Chuang Tzu (Paperback)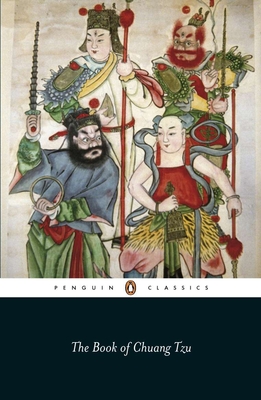 $18.00

Usually Arrives in 3-5 Days
Description
---
A masterpiece of ancient Chinese philosophy, second in influence only to the Tao Te Ching

One of the founders of Taoism, Chuang Tzu was firmly opposed to Confucian values of order, control, and hierarchy, believing the perfect state to be one where primal, innate nature rules. Full of profundity as well as tricks, knaves, sages, jokers, unbelievably named people, and uptight Confucians, The Book of Chuang Tzu perceives the Tao-the Way of Nature- not as a term to be explained but as a path to walk. Radical and subversive, employing wit, humor, and shock tactics, The Book of Chuang Tzu offers an intriguing look deep into Chinese culture.

For more than seventy years, Penguin has been the leading publisher of classic literature in the English-speaking world. With more than 1,700 titles, Penguin Classics represents a global bookshelf of the best works throughout history and across genres and disciplines. Readers trust the series to provide authoritative texts enhanced by introductions and notes by distinguished scholars and contemporary authors, as well as up-to-date translations by award-winning translators.
About the Author
---
Martin Palmer is the director of the International Consultancy on Religion, Education, and Culture (ICOREC), which specializes in religious, environmental, educational, and developmental projects and works with a variety of international organizations, such as the World Wildlife Fund, UNESCO, and the World Bank. He is the author of many books on religious topics and is one of the foremost translators of ancient Chinese texts, having published translations of the Tao Te Ching, I Ching, Chuang Tzu, and Quan Yin. A regular contributor on BBC TV and Radio, Palmer records for them on his frequent visits to China. A leading expert on Taoist ritual, Palmer studied theology at the University of Cambridge, with a special emphasis on Chinese and Japanese studies.

Elizabeth Breuilly is a member of ICOREC. She specializes in educational books and in assisting faith groups in articulating their fundamental teachings clearly to nonspecialist audiences.