The Republic Of Pirates: Being the True and Surprising Story of the Caribbean Pirates and the Man Who Brought Them Down (Paperback)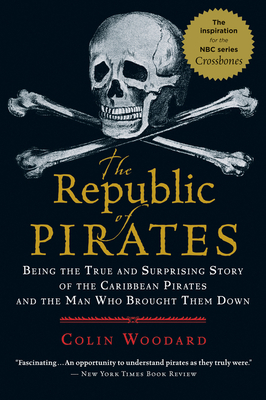 $18.99

Usually Arrives in 3-5 Days
Description
---
An entrancing tale of piracy colored with gold, treachery and double-dealing (Portland Press Herald), Pulitzer Prize-finalist Colin Woodward's The Republic of Pirates is the historical biography of the exploits of infamous Caribbean buccaneers.

In the early eighteenth century, the Pirate Republic was home to some of the great pirate captains, including Edward "Blackbeard" Teach, "Black Sam" Bellamy, and Charles Vane. Along with their fellow pirates — former sailors, indentured servants, and runaway slaves — this "Flying Gang" established a crude but distinctive democracy in the Bahamas, carving out their own zone of freedom in which servants were free, blacks could be equal citizens, and leaders were chosen or deposed by a vote.

They cut off trade routes, sacked slave ships, and severed Europe from its New World empires. For a brief, glorious period the Republic was a success as the pirates became heroes in the eyes of the people.

Drawing on extensive research in the archives of Britain and the Americas, award-winning author Colin Woodard tells the dramatic untold story of the Pirate Republic that shook the very foundations of the British and Spanish Empires and fanned the democratic sentiments that would one day drive the American revolution.
About the Author
---
COLIN WOODARD is a Pulitzer Prize finalist and award-winning author of American Nations: A History of The Eleven Rival Regional Cultures of North America, The Lobster Coast: Rebels, Rusticators, and the Struggle for a Forgotten Frontier, and Ocean's End: Travels Through Endangered Seas. He is State & National Affairs Writer at the Portland Press Herald, where he won a George Polk Award for his investigative reporting. His writing has appeared in Smithsonian, the Economist, the Washington Post, and many other national and international publications. He lives in midcoast Maine. 
Praise For…
---
PRAISE FOR COLIN WOODARD

"A tremendous reporter . . . and [a] strong, impassioned writer as well."—THE BOSTON GLOBE

PRAISE FOR THE LOBSTER COAST

"A beautifully considered history . . . Woodard's admiration for lobster culture is stirring . . . Mainers' feisty pluck remains undiminished in the face of obstacles."—NEWSDAY —