The Great Cat and Dog Massacre: The Real Story of World War Two's Unknown Tragedy (Animal Lives) (Paperback)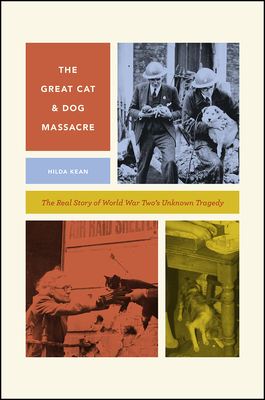 $34.80

Usually Arrives in 3-5 Days
Description
---
The tragedies of World War II are well known. But at least one has been forgotten: in September 1939, four hundred thousand cats and dogs were massacred in Britain. The government, vets, and animal charities all advised against this killing. So why would thousands of British citizens line up to voluntarily euthanize household pets?

In The Great Cat and Dog Massacre, Hilda Kean unearths the history, piecing together the compelling story of the life—and death—of Britain's wartime animal companions. She explains that fear of imminent Nazi bombing and the desire to do something to prepare for war led Britons to sew blackout curtains, dig up flower beds for vegetable patches, send their children away to the countryside—and kill the family pet, in theory sparing them the suffering of a bombing raid. Kean's narrative is gripping, unfolding through stories of shared experiences of bombing, food restrictions, sheltering, and mutual support. Soon pets became key to the war effort, providing emotional assistance and helping people to survive—a contribution for which the animals gained government recognition.

Drawing extensively on new research from animal charities, state archives, diaries, and family stories, Kean does more than tell a virtually forgotten story. She complicates our understanding of World War II as a "good war" fought by a nation of "good" people. Accessibly written and generously illustrated, Kean's account of this forgotten aspect of British history moves animals to center stage—forcing us to rethink our assumptions about ourselves and the animals with whom we share our homes.
 
About the Author
---
Hilda Kean is visiting professor at the University of Greenwich and an honorary senior research associate at University College London. Her many books include Animal Rights: Political and Social Change in Britain since 1800 and London Stories: Personal Lives, Public Histories.
Praise For…
---
"The tremendous loss of human life during World War II has made this episode an unsuitable one to criticize. Kean's book brings to light an uncomfortable chapter in British history."
— Wall Street Journal
"Kean's snapshots of life during wartime are engaging. . . . Her book suggests that history should acknowledge 'everybody' to include bodies with four legs as well as two."
— New York Times Book Review
"This is a brilliant telling of an important but neglected story of Britain's 'People's War.' Kean's reconstruction of the unnecessary slaughter of hundreds of thousands of pet animals at the outbreak of war will live long in the reader's memory. But it is matched by her meticulous recovery of the changing aspect of animal-human relations throughout the remaining six years of conflict."
— Jerry White, author of London in the Twentieth Century: A City and Its People
"This is a profoundly important book. Like a piece of paper folded into origami, it reveals new dimensions to a tragic subject. It reshapes our historical understanding by giving us a remarkable model of cross-species inclusivity. I want to start reading it all over again to see just how Kean pulled this off."
— Carol J. Adams, author The Sexual Politics of Meat
"By unearthing this odd but significant moment of compassionate hysteria, Kean's book undercuts this portrayal of the resolute Empire, suggesting the terror and irrationality beneath the stiff upper lip."
— Los Angeles Review of Books
"A multifaceted history. . . . Pursuing questions as varied as a pet's value in the years leading up to the war, how the idea of war-preparedness (or 'doing things') goaded people into acting drastically (and often pointlessly), and how the event shaped thinking on animal rights, Kean achieves an unusual psychological portrait of a society in wartime."
— New Yorker
"For those who think everything has been said about Britain's war, here is a book that will change our perspective on the popular image of the British people calmly coping with the challenges of the home front. Kean not only brings animals into the wartime narrative in their own right, but challenges the way historians have treated the wartime experience. This is a remarkably rich and detailed history, not only reconstructing the unknown story of the animal massacre, but in the process offering a profound view of the way animals and humans interact."
— Richard Overy, author of The Bombing War: Europe 1939–1945
"I was completely riveted, not least by what
The Great Cat And Dog Massacre
tells you about our unexpectedly ambivalent attitudes towards animals."
— Daily Mail
"Kean's book, which has some excellent illustrations, insightful anecdotes, and shrewd analysis, lists the ways in which domestic animals both suffered in the war and also contributed to the war effort."
— Literary Review
"Beginning with the mass slaughter of household pets immediately after Britain's declaration of war on Germany in 1939, Kean's compelling account explores the varied ways in which domesticated animals experienced the Home Front. With the exception of what contemporaries criticized as 'the holocaust of pets,' most of these experiences were shared by human and non-human animals. By retrieving evidence of the lives of individual companion animals, as well as by documenting the increasing official acknowledgment of their value and standing, Kean offers a fresh perspective on what has often been called the 'People's War.'"
— Harriet Ritvo, author most recently of Noble Cows and Hybrid Zebras: Essays on Animals and History
"The shocking story of why up to 750,000 animals were killed in the first week of the Second World War is the subject of a fascinating new book."
— Daily Express
"The central historical event around which Kean's book revolves is shocking. . . . Contains a wealth of fascinating detail. . . . Raises sobering questions about how far attitudes of disposability towards the animals we call our companions still persist."
— Times Literary Supplement
"This is a well-researched and well-crafted book, and by bringing animals into the wartime narrative in their right, Kean does help to reshape our historical understanding of what has often been called the "People's War.". . .Kean recovers how animals and humans meaningfully interacted and, in so doing, challenges the ways historians have interpreted the wartime experience. For this reason, this is a book that should be read not only by historians of animals but also those interested in domesticity, memory, war, and British history."
— Journal of British Studies
"Clearly illustrates how the widely accepted narrative of Brits keeping calm and carrying on was not all that it was cracked up to be. Kean does a thorough job of collecting anecdotes, letters, news clippings that collectively shed light on the many experiences of pet owners, their children, vets, animal rescuers, politicians, and the animals themselves. Because this was not a phenomenon that was widely publicized and, after the war, was quickly forgotten, this book provides an important historical record. [The Great Dog and Cat Massacre] does a service to those animals who gave their lives before their time."
— EcoLit Books
"Remarkable. . .This remarkable book begins with a shocking event: the killing of at least 400,000 pet cats and dogs in London during four days of the first week of World War II. . .Without doubt, Hilda Kean has written an original and challenging monograph whose message forces readers to rethink their attitudes about themselves and the animals around them."
— Cercles
"In
The Great Cat & Dog Massacre
, Kean shows how one can take an imaginative approach to historiography
for
animals. . . . The interesting thing about this book, especially for interdisciplinary readers, is
that it goes beyond that approach, opening up processes and possibilities for a history in which animals' subject status is foregrounded. This type of history has relevance beyond disciplinary concerns and narrative reconstructions. There is much of value to the practice and teaching of veterinary medicine in this book."
— Society & Animals
"The many personal, and often moving, reminiscences collected in this book reveal just how many enduring wartime memories, happy or sad, featured an animal. It is in times of greatest difficulty that one discovers who one's friends are."
— Journal of Animal Ethics