Enemy's Keeper: Forbidden Ties (Enemy's Keeper Series Book 1) (Paperback)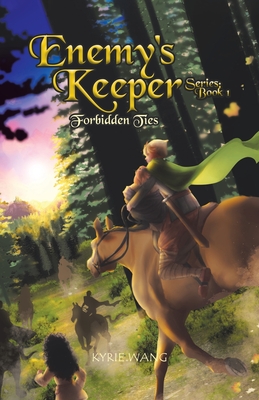 Description
---
**A YA medieval historical fantasy adventure and love story**
5/5 STARS "A swirling mix of political intrigue, vivid action sequences, and lighthearted romance makes Forbidden Ties a delight for medieval fiction lovers. Author Kyrie Wang's tale of two people from opposing factions finding themselves forced to work together under extraordinary circumstances is captivating from start to finish." - Pikasho Deka for Reader's Favorite Reviews
4.7/5 STARS "Author Kyrie Wang presents historical YA fiction interwoven with nonstop action, nuanced characters, and hints of romance in this riveting series starter." - Indie Reader Reviews
5/5 STARS "The characters are well developed, the scenes are described with attention to detail, and the history is well researched. Interspersed between the battles and the growing need to find clarity between what is good and what is evil, romance blossoms with a subtlety that will have readers sitting on edge, wanting to learn more." - Emily-Jane Hills Orford, author of Queen Mary's Daughter.
✭ ✭ ✭ ✭ ✭ What readers are saying ✭ ✭ ✭ ✭ ✭
"Enemy's Keeper: Forbidden Ties, starts with a bang and never lets go."
"I know I've found a good book when I have to negotiate with myself to do my responsibilities instead of grabbing a blanket and curling up with its story.""I was completely in aww of this book. These are one of my step out of my normal moments and glad I did Suspenseful Page turner Loved it "
"Medieval history, justice, freedom, equality and add young romance to the whole the mix, you know you have an exciting read in your hands."
"A gripping adventure with relatable characters, vivid descriptions, true historical elements, and complex moral implications."
"This story of loyalty, revenge and ultimately compassion is a riveting journey you will be very glad to have made."
The orphans. The outcast. In a country torn by rebellion, they will rise as heroes.
1075 A.D. England
Nine years after the Norman Conquest
Orphaned during a rebellion against William the Conqueror, Heather is thrust into another revolt when her childhood sweetheart disappears to save the son of a murdered Norman knight.
This quarrelsome son, Matthew, is determined to destroy the English rebels who decimated his household. Heather stays out of it-until she is accidentally entangled with a young rebel leader named Toby. Although an Anglo-Saxon like herself, Toby is driven by vengeance against the Normans that she does not share.