The Old Capital: A Novel of Taipei (Modern Chinese Literature from Taiwan) (Hardcover)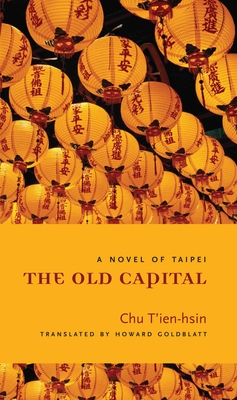 Description
---
Chu T'ien-hsin's The Old Capital is a brilliant evocation of Taiwan's literature of nostalgia and remembrance. The novel is centered on the question, "Is it possible that none of your memories count?" and explores the reliability of remembrances and the thin line that separates fact from fantasy.
Comprised of four thematically linked stories and a novella,
The Old Capital
focuses on the cultural and psychological realities of contemporary Taiwan. The stories are narrated by individuals who share an aching nostalgia for a time long past. Strolling through modern Taipei, they return to the lost, imperfect memories called forth by the smells and sensations of their city, and try to reconcile themselves to their rapidly changing world. The novella is built on the memories and recollections of a woman trying to make sense of herself and her homeland. After a trip to Kyoto to meet with a friend, she returns to Taipei, where, having been mistaken for a Japanese tourist, she revisits the sites of her youth using a Japanese colonial map of the city. Seeing Taipei anew, the narrator confronts the complex nature of her identity, embodied in the contrast between a serene and preserved Kyoto and a thoroughly modernized and chaotic Taipei. The growing angst of these narrators reflects a deeper anxiety over the legacy of Japan and America in Taiwan. The titles of the stories themselves-"Death in Venice," "Man of La Mancha," "Breakfast at Tiffany's," "Hungarian Water"-reveal the strong currents of influence that run throughout the collection and shape the content and texture of the writing. In his meticulous translation, Howard Goldblatt captures the casual, intimate feel of Chu T'ien-hsin's writing while also maintaining its multiple layers of meaning. An intertextual masterpiece,
The Old Capital
is a moving and highly sensual meditation on the elasticity of memory and its power to shape personal identity.
About the Author
---
Chu T'ien-hsin is a prominent Taiwanese intellectual, and by the 1990s, she and her sister Chu T'ien-wen were recognized as leading writers of fiction. She is the author of a collection of short stories entitled Fangzhou shang de rizi (Days on board the ark), and a former literary editor. Currently she works as a freelance writer in Taiwan.Howard Goldblatt is research professor of East Asian languages and literatures at the University of Notre Dame and an internationally renowned translator. He has published English translations of more than thirty novels and short story collections and has authored many books on Chinese literature.