The University of Notre Dame: A History (Hardcover)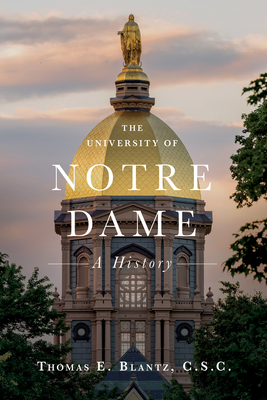 $49.00

Usually Arrives in 3-5 Days
Description
---
Thomas Blantz's monumental The University of Notre Dame: A History tells the story of the renowned Catholic university's growth and development from a primitive grade school and high school founded in 1842 by the Congregation of Holy Cross in the wilds of northern Indiana to the acclaimed undergraduate and research institution it became by the early twenty-first century. Its growth was not always smooth--slowed at times by wars, financial challenges, fires, and illnesses. It is the story both of a successful institution and of the men and women who made it so: Father Edward Sorin, the twenty-eight-year-old French priest and visionary founder; Father William Corby, later two-term Notre Dame president, who gave absolution to the soldiers of the Irish Brigade at the Battle of Gettysburg; the hundreds of Holy Cross brothers, sisters, and priests whose faithful service in classrooms, student residence halls, and across campus kept the university progressing through difficult years; a dedicated lay faculty teaching too many classes for too few dollars to assure the university would survive; Knute Rockne, a successful chemistry teacher but an even more successful football coach, elevating Notre Dame to national athletic prominence; Father Theodore M. Hesburgh, president for thirty-five years; the 325 undergraduate young women who were the first to enroll at Notre Dame in 1972; and thousands of others.
Blantz captures the strong connections that exist between Notre Dame's founding and early life and today's university. Alumni, faculty, students, friends of the university, and fans of the Fighting Irish will want to own this indispensable, definitive history of one of America's leading universities. Simultaneously detailed and documented yet lively and interesting, The University of Notre Dame: A History is the most complete and up-to-date history of the university available.
About the Author
---
Thomas E. Blantz, C.S.C., is professor emeritus of history at the University of Notre Dame. He is the author of George N. Shuster: On the Side of Truth (1993) and A Priest in Public Service: Francis J. Haas and the New Deal (1982), both published by the University of Notre Dame Press.