Between Two Millstones, Book 2: Exile in America, 1978-1994 (Center for Ethics and Culture Solzhenitsyn) (Hardcover)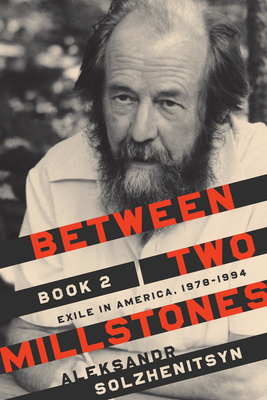 $39.00

Usually Arrives in 3-5 Days
Description
---
"Aleksandr Solzhenitsyn delineates his idyllic time in rural Vermont, where he had the freedom to work, spend time with his family, and wage a war of ideas against the Soviet Union and other detractors from afar. At his quiet retreat . . . the Nobel laureate found . . . 'a happiness in free and uninterrupted work.'" --Kirkus Reviews
This compelling account concludes Nobel Prize-winner Aleksandr Solzhenitsyn's literary memoirs of his years in the West after his forced exile from the USSR following the publication of The Gulag Archipelago. The book reflects both the pain of separation from his Russian homeland and the chasm of miscomprehension between him and Western opinion makers. In Between Two Millstones, Solzhenitsyn likens his position to that of a grain that becomes lodged between two massive stones, each grinding away--the Soviet Communist power with its propaganda machine on the one hand and the Western establishment with its mainstream media on the other.
Book 2 picks up the story of Solzhenitsyn's remarkable life after the raucous publicity over his 1978 Harvard Address has died down. The author parries attacks from the Soviet state (and its many fellow-travelers in the Western press) as well as from recent migr's who, according to Solzhenitsyn, defame Russian culture, history, and religion. He shares his unvarnished view of several infamous episodes, such as a sabotaged meeting with Ronald Reagan, aborted Senate hearings regarding Radio Liberty, and Gorbachev's protracted refusal to allow The Gulag Archipelago to be published back home. There is also a captivating chapter detailing his trips to Japan, Taiwan, and Great Britain, including meetings with Margaret Thatcher and Prince Charles and Princess Diana. Meanwhile, the central themes of Book 1 course through this volume, too--the immense artistic quandary of fashioning The Red Wheel, staunch Western hostility to the historical and future Russia (and how much can, or should, the author do about it), and the challenges of raising his three sons in the language and spirit of Russia while cut off from the homeland in a remote corner of rural New England. The book concludes in 1994, as Solzhenitsyn bids farewell to the West in a valedictory series of speeches and meetings with world leaders, including John Paul II, and prepares at last to return home with his beloved wife Natalia, full of misgivings about what use he can be in the first chaotic years of post-Communist Russia, but never wavering in his conviction that, in the long run, his books would speak, influence, and convince. This vibrant, faithful, and long-awaited first English translation of Between Two Millstones, Book 2, will fascinate Solzhenitsyn's many admirers, as well as those interested in twentieth-century history, Russian history, and literature in general.
About the Author
---
Aleksandr Solzhenitsyn (1918-2008), Nobel Prize laureate, was a Soviet political prisoner from 1945 to 1953. His story One Day in the Life of Ivan Denisovich (1962) made him famous, and The Gulag Archipelago (1973) further unmasked Communism and played a critical role in its eventual defeat. Solzhenitsyn was exiled to the West in 1974. He ultimately published dozens of plays, poems, novels, and works of history, nonfiction, and memoir, including In the First Circle, Cancer Ward, The Oak and the Calf, and Between Two Millstones, Book 1: Sketches of Exile, 1974-1978 (University of Notre Dame Press, 2018).Clare Kitson is a Russian literary translator. She has also translated part of Aleksandr Solzhenitsyn's epic cycle, The Red Wheel.Melanie Moore is a Russian and French translator, and she has produced a number of Russian literary translations.Daniel J. Mahoney holds the Augustine Chair in Distinguished Scholarship at Assumption College.