Cravings (Paperback)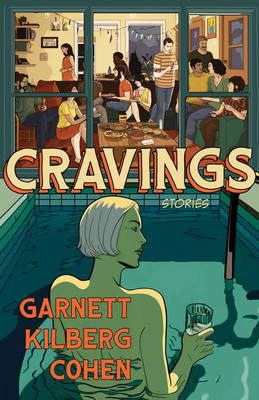 $17.95

On Our Shelves Now - May Be on Hold for Another Customer
Description
---
Opening with "Hors d'oeuvres" and closing with a "Feast," the stories in Cravings pulse with longing, missed opportunities, recriminations, and joy. Garnett Kilberg Cohen leads readers through acutely crafted explorations of the way events shape and change our lives, sometimes for the better and sometimes in ways that haunt us forever. Love, friendship, childhood, parenthood, and leaving home—all these experiences of desire, driven by the unrelenting passage of time—form the heart of this charismatic collection. 

Kilberg Cohen's captivating and vulnerable characters often recognize their shortcomings and past mistakes, but cannot always rise above them. One woman learns to forgive her husband's ex; another fears her love of salty snacks caused a family tragedy. A stoic rural community drives a newcomer out of town; a young man's entire life is colored by a traumatic childhood event at a zoo. Focusing on the specific, unforgettable moments that reveal our connections to one another, Cravings offers an expansive vision of humanity that lingers long after the final page is turned. 
About the Author
---
Garnett Kilberg Cohen is the author of three story collections: Lost Women, Banished Souls; How We Move the Air; and Swarm to Glory. She has taught creative writing at Columbia College Chicago for more than twenty-five years.
Praise For…
---
"The characters in Cravings demanded my full attention and my full empathy. Cohen crafts their circumstances brilliantly, revealing the moments around which the rest of their lives are tangled. Each yearns for something different, but as I turned the last page, I knew what I wanted: one more story."—Jeff Hoffmann, author of Other People's Children

"Each story in Garnett Kilberg Cohen's gorgeous new collection is a tour de force in subtlety and indirection. Everyday narratives become profound meditations upon how we process trauma, the indelible imprint of past experience upon the present, and the paradoxically fixed and fluid nature of memory. Philosophical, reflective, and attuned to the human spirit, these powerful tales will win your heart, and then ask you to wonder why."—Elizabeth Kadetsky, author of The Memory Eaters

"These are slow-savor stories. . . . Deep and humane, the short stories collected in Cravings focus on rare moments of vibrant, uncensored selfhood."—Foreword Reviews

"Through the details of everyday life, Cohen opens up a character's world. The slightest phrase evokes a flood of emotions. . . . There is good variety in the selection of these stories: they'll make you laugh, cry, or just sigh. . . . I would have liked to point to my favorite story from the collection, but I can't. I admired them all, each in its own way."—Carole Reedy, The Eye

"[Kilberg Cohen's] latest collection Cravings exemplifies her every strength. Bookended by stories titled 'Hors d'oeuvres' and 'Feast,' her writing is filled with a deep hunger for redemption and connection. . . . For lovers of short stories, prepare to eat well with Cravings."—Chicago Review of Books