The Return of the Taliban: Afghanistan after the Americans Left (Hardcover)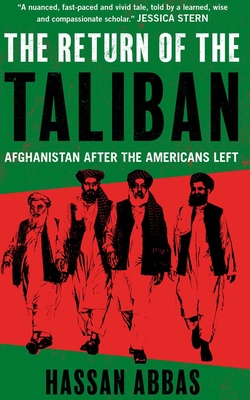 $26.00

Usually Arrives in 3-5 Days
Description
---
The first account of the new Taliban—showing who they are, what they want, and how they differ from their predecessors
 
Since the fall of Kabul in 2021, the Taliban have effective control of Afghanistan—a scenario few Western commentators anticipated. But after a twenty-year-long bitter war against the Republic of Afghanistan, reestablishing control is a complex procedure. What is the Taliban's strategy now that they've returned to power?
 
In this groundbreaking new account, Hassan Abbas examines the resurgent Taliban as ruptures between moderates and the hardliners in power continue to widen. The group is now facing debilitating threats—from humanitarian crises to the Islamic State in Khorasan—but also engaging on the world stage, particularly with China and central Asian states. Making considered use of sources and contacts in the region, and offering profiles of major Taliban leaders, Return of the Taliban is the essential account of the movement as it develops and consolidates its grasp on Afghanistan.
About the Author
---
Hassan Abbas is Distinguished Professor of International Relations at the Near East South Asia Strategic Studies Center, National Defense University, in Washington, DC. He is the author of numerous books, including The Taliban Revival and The Prophet's Heir.
Praise For…
---
"Abbas's survey is a valiant attempt at explaining the enigma that is Afghanistan under the Taliban."—Isambard Wilkinson, Times (UK)

"The questions [Abbas] explores are difficult and important. . . . [He] provides a well-informed survey of the second Islamic Emirate."—Steve Coll, New York Review of Books

"A fluid, readable and unique account of how their return to power has shaped the Taliban, and the possibilities that might offer for U.S. and allied policy to engage for the benefit of the Afghan people."—Shaun Waterman, Newsweek, "Staffers' Favorite Books of 2023 for Everyone on Your Gift List"

"The Return of the Taliban adopts a distinct approach. Rather than extensively dwelling on past events, the book briefly glances in the rearview mirror, placing its primary focus on the potential for a more pragmatic and hopeful future."—Adam Weinstein, Foreign Policy

"Deeply informed. . . . Abbas sees fluidity beneath the regime's hard carapace and optimistically suggests that a Western policy of engagement could push the Taliban toward pragmatism."—Andrew J. Nathan, Foreign Affairs

"[This] deeply informed account covers the negotiations that led to the Taliban takeover of Afghanistan in 2021, the makeup of the new regime, its religious ideology, its foreign relations, and the many problems it faces now that it governs."—Andrew J. Nathan, Foreign Affairs

"This highly readable book by Hassan Abbas is rich in revealing pivotal decisions leading to the Taliban's seizure of power and in describing how as rulers the Taliban struggle to reconcile pressures for transition with their rigid ideology. The book furnishes valuable insight into who the Taliban are and how best the West can engage them."—Marvin Weinbaum, author of Pakistan and Afghanistan

"This is a very informative and readable book, providing a comprehensive analysis of the Taliban's return to power from insurgency to governance. It succinctly traces and diagnoses the Taliban's trajectory from 1.0 to 2.0 to 3.0. Its perspective deserves to be widely read and understood."—Amin Saikal, author of Modern Afghanistan

"Hassan Abbas has written the definitive account of the Taliban's return to power in Afghanistan. The book tells a compelling story of U.S. policy failure in the region and sheds light on the inner workings of the new Taliban regime. Well-researched, rigorous and insightful, the book is a must-read for anyone interested in contemporary world affairs."—Anne Likuski, author of Al-Qaida in Afghanistan

"A nuanced, fast-paced, and vivid tale, told by a learned, wise, and compassionate scholar uniquely positioned to understand the dynamics of the Taliban's continuing evolution. Ultimately, Abbas challenges the US government to find ways to engage with the Taliban, for the good of the Afghan people, despite the misogyny, bigotry, and rigidity of their leaders."—Jessica Stern, author of Terror in the Name of God