How States Think: The Rationality of Foreign Policy (Hardcover)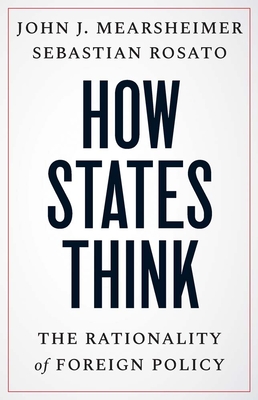 $30.00

Usually Arrives in 3-5 Days
Description
---
A groundbreaking examination of a central question in international relations: Do states act rationally?
 
To understand world politics, you need to understand how states think. Are states rational? Much of international relations theory assumes that they are. But many scholars believe that political leaders rarely act rationally. The issue is crucial for both the study and practice of international politics, for only if states are rational can scholars and policymakers understand and predict their behavior.
 
John J. Mearsheimer and Sebastian Rosato argue that rational decisions in international politics rest on credible theories about how the world works and emerge from deliberative decision‑making processes. Using these criteria, they conclude that most states are rational most of the time, even if they are not always successful. Mearsheimer and Rosato make the case for their position, examining whether past and present world leaders, including George W. Bush and Vladimir Putin, have acted rationally in the context of momentous historical events, including both world wars, the Cold War, and the post–Cold War era.  
 
By examining this fundamental concept in a novel and comprehensive manner, Mearsheimer and Rosato show how leaders think, and how to make policy for dealing with other states.
About the Author
---
John J. Mearsheimer is the R. Wendell Harrison Distinguished Service Professor of Political Science at the University of Chicago. He is the author of The Great Delusion: Liberal Dreams and International Realities. He lives in Chicago, IL. Sebastian Rosato is professor of political science at the University of Notre Dame. He is the author of Intentions in Great Power Politics: Uncertainty and the Roots of Conflict. He lives in South Bend, IN.
Praise For…
---
"Thought provoking. . . . Lands its key argument well."—James Denselow, New York Journal of Books

"In this argumentative and cogent book, Mearsheimer and Rosato argue that rational strategic action requires a credible theory and a deliberative process.  Examining many important decisions since 1900, they conclude that rational strategic action is normal but not universal."—Robert O. Keohane, author of After Hegemony

"Mearsheimer and Rosato show why we should not be too quick to dismiss policies we dislike as 'irrational.' . . . An impressive, probing, and thought-provoking analysis of a very fundamental issue."—Marc Trachtenberg, author of The Craft of International History

"John Mearsheimer and Sebastian Rosato demonstrate how great powers jostle relentlessly for national security and expanded power. To base foreign policy on the view that the opponent is irrational is to invite debacles such as the war in Ukraine. To take major actions such as the Iraq War without rational deliberation is to invite disaster. This is a powerful and important essay, calling for foreign policy makers of great powers to undertake rational deliberation and to understand the rational viewpoint of other great powers."—Jeffrey D. Sachs, University Professor at Columbia University

"How States Think takes dead aim at the tendency to see adversaries and aggressors as inherently 'irrational.' Equally important, it argues that familiar conceptions of rationality are unsuitable for analyzing most political decisions. It is a book that no serious international relations scholar will be able to ignore."—Stephen M. Walt, Robert and Renee Belfer Professor of International Affairs, Harvard Kennedy School

"A lively and provocative book. Mearsheimer and Rosato's message is unflinching: in a world of great uncertainty, the rational leader will need to rely on a worked-out world view to shape state goals and actions—even if history shows that strategic rationality sometimes leads to war, failure, and national self-harm."—G. John Ikenberry, author of A World Safe for Democracy