Memoirs of a Geisha (Paperback)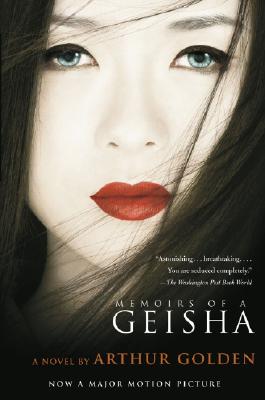 Description
---
Memoirs of A Geisha is an epic drama about the remote and shimmeringly exotic world of Sayuri, one of Japan's most celebrated geishas. The novel has been a beloved bestseller all over the world and is now set to become the major movie event of the year. The film stars Asia's most celebrated movie stars including Zhang Ziyi (House of Flying Daggers; Hero), Ken Watanabe (The Last Samurai), Gong Li (Raise The Red Lantern), and Michelle Yeoh (Crouching Tiger, Hidden Dragon).
In this literary tour de force, novelist Arthur Golden enters a remote and shimmeringly exotic world. For the protagonist of this peerlessly observant first novel is Sayuri, one of Japan's most celebrated geisha, a woman who is both performer and courtesan, slave and goddess.

We follow Sayuri from her childhood in an impoverished fishing village, where in 1929, she is sold to a representative of a geisha house, who is drawn by the child's unusual blue-grey eyes. From there she is taken to Gion, the pleasure district of Kyoto. She is nine years old. In the years that follow, as she works to pay back the price of her purchase, Sayuri will be schooled in music and dance, learn to apply the geisha's elaborate makeup, wear elaborate kimono, and care for a coiffure so fragile that it requires a special pillow. She will also acquire a magnanimous tutor and a venomous rival. Surviving the intrigues of her trade and the upheavals of war, the resourceful Sayuri is a romantic heroine on the order of Jane Eyre and Scarlett O'Hara. And Memoirs of a Geisha is a triumphant work - suspenseful, and utterly persuasive.


From the Paperback edition.
About the Author
---
Arthur Golden was born in Chattanooga, Tennessee, and was educated at Harvard College, where he received a degree in art history, specializing in Japanese art. In 1980 he earned an M.A. in Japanese history from Columbia University, where he also learned Mandarin Chinese. Following a summer at Beijing University, he worked in Tokyo, and, after returning to the United States, earned an M.A. in English from Boston University. He resides in Brookline, Massachusetts, with his wife and two children.
Praise For…
---
"A startling debut.... By turns fairy tale, romance, coming of age and historical first novel, Memoirs of a Geisha is an astounding magic act."
-Ottawa Citizen

"A fascinating, poignant and entirely believable tale, as delicate, intricate and beautiful as the silk kimonos so central to the story.... Captivating ... lush [and] lyrical.... This is a luxurious book, every page fat with evocative, beautiful words.... If life is a simple stream, Memoirs of a Geisha is a shimmering pebble that makes the water dance."
-The Toronto Sun

"A startling act of literary impersonation, a feat of cross-cultural masquerade on the order of Kazuo Ishiguro's The Remains of the Day.... Golden's description of a kept woman's fleshly epiphanies has the purity of Colette."
-Vogue

"Cause for celebration.... Rarely has a world so closed and foreign been evoked with such natural assurance.... In the unforgettable Sayuri, Golden has found the heart and matter of a truth that lies beyond detail."
-The New Yorker

"A truly engrossing story. The reader suffers, triumphs, dreams and doubts with the heroine, all the way through.... Beautifully written."
-Sunday Express

"Exceptional....This is one of those rare novels that evokes a vanished world with absolute conviction."
-Daily Mail


From the Paperback edition.