I Hunt Killers (Paperback)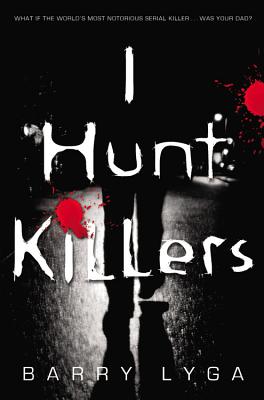 $11.99

Usually Arrives in 3-5 Days
Other Books in Series
This is book number 1 in the I Hunt Killers series.
kids Kids Indie Next List
---
"Growing up the son of one of the country's most notorious serial killers, 17-year-old Jasper 'Jazz' Dent has an intimate understanding of how killers think, and sometimes it scares him just how much he knows. Determined to use his knowledge for good, Jazz tries -- uninvited -- to help the local police solve a murder. When the bodies start to pile up, and it becomes clear that the town has another serial killer on its hands, Jazz realizes he has put himself and his friends in harm's way. Fast-paced, funny, and utterly original, I Hunt Killers marks the start of an electric new teen series."
— David Mallmann, Next Chapter Bookshop, Mequon, WI
Description
---
The first book in this thrilling, terrifying series by New York Times bestselling author Barry Lyga is perfect for fans of Dexter.

It was a beautiful day. It was a beautiful field.

Except for the body.

Jazz is a likable teenager. A charmer, some might say.

But he's also the son of the world's most infamous serial killer, and for Dear Old Dad, "Take Your Son to Work Day" was year-round. Jazz has witnessed crime scenes the way cops wish they could--from the criminals' point of view.

And now, even though Dad has been in jail for years, bodies are piling up in the sleepy town of Lobo's Nod. Again.

In an effort to prove murder doesn't run in the family, Jazz joins the police in the hunt for this new serial killer. But Jazz has a secret--could he be more like his father than anyone knows?

From acclaimed author Barry Lyga comes a riveting thriller about a teenager trying to control his own destiny in the face of overwhelming odds.
About the Author
---
Barry Lyga is the author of several acclaimed young adult novels, including Bang, After the Red Rain, the I Hunt Killers trilogy, and his debut, The Astonishing Adventures of Fanboy and Goth Girl. Barry lives and writes in New Jersey, and invites you to visit his website at barrylyga.com.
Praise For…
---
* "A superb mystery/thriller that explores what it's like to have a monster for a father...Lyga delivers a taut, gory tale that can easily stand its own as an adult thriller...but it's Jazz's internal conflict about his exposure to his father's evil that adds extra dimension and makes the book shine."—Publishers Weekly (starred review)

* "Lyga brilliantly combines the feel of a true crime story with mystery, adventure, and psychoanalysis...This story will appeal to a wide variety of older teen readers."—VOYA (starred review)

"Lyga has fashioned the kind of gripping, gory psycho-thriller usually relegated to adult fiction...Before the teasing finale, Lyga gifts readers with a Hannibal Lecter-like prison showdown between Jazz and Billy. Safe bet that the sequel will offer more of these satisfying tete-a-tetes."—Booklist

"There is much to satisfy the blood-and-gore lust of older teen CSI and serial-killer fans."—Kirkus

"I adored this book. The mystery pulls you in from the first pages, and Jazz is a more chillingly charming protagonist than Dexter Morgan."—Cassandra Clare, author of the Mortal Instruments series

"I Hunt Killers is an out-of-control hearse with one busted headlight, blood on the grille, a madman at the wheel, and laughter pouring out of the open windows.. Climb in, buckle up, and go for a ride. It's the best thing in YA fiction sinceThe Hunger Games."—Joe Hill, author of Horns and Heart-Shaped Box