Urban Romance (Paperback)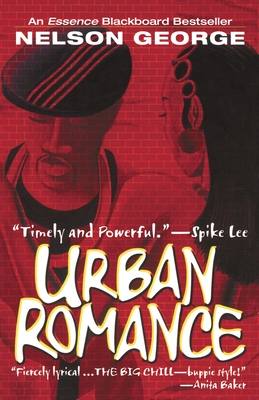 $19.00

Usually Arrives in 3-5 Days
Description
---
Hip music critic Dwayne Robinson has two main gigs: defending rap's rightful place in the music industry and scoring as many women as possible. But this smooth-talking b-boy has yet to try working love into his lingo--until "buppie" Danielle Embry slides into and rocks his world.

A Connecticut suburbanite, Danielle is as far removed from Dwayne's Brooklyn ghetto upbringing as it gets. Yet despite this clash, these unlikely lovers are drawn together. While struggling to grind out a harmonious tune amid the grit and glamour of New York City, they soon find themselves confronted with issues that cut deeper than either of them bargained for. . . .
About the Author
---
Nelson George is the author of eight books, including Elevating the Game, The Death of Rhythm and Blues, which was nominated for a National Book Critics Circle Award, Where Did Our Love Go?, Seduced, and most recently, the highly praised Buppies, B-Boys, Baps & Bohos. A graduate of St. John's University, he was Billboard's black music editor for seven years before becoming a regular columnist for The Village Voice in 1989. He is a coauthor of the screenplays for the films Strictly Business and CB4 and a Grammy Award winner for James Brown's album Startime. George was born and grew up in Brooklyn, New York.
Praise For…
---
"Timely and powerful."
--SPIKE LEE

"Fiercely lyrical . . . The Big Chill--buppie style!"
--ANITA BAKER

"An insightful glimpse into a world where race is the theme and class is the tricky variation. . . . Nelson George . . . writes with a vitality and an emotional honesty that are appealing."
--The Boston Globe

"Urban Romance is a sojourn with deeply imagined characters whose dreams live in our hearts."
--ANGELA BASSETT