Invincible: A Novel (Paperback)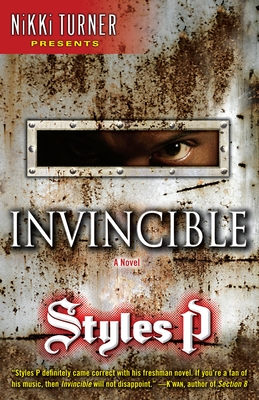 Description
---
Jake Billings is usually cool under pressure, but when two stick-up kids rob his record store, Jake opens fire on them, landing him in prison. Five days in, he receives an anonymous letter telling him that his days are numbered. But before he can find out who's behind the threats, Jake is stabbed and ends up in a coma.

When he wakes in a hospital bed two years later, things have changed: His prison sentence has been commuted, his girlfriend is fiercely independent, and his side piece has gotten out of the street life altogether. But one thing remains: Jake's enemy still wants him dead and is powerful enough to track him down no matter where he hides.

On the run, and with rumors circulating about a powerful, phantomlike gang called the 300 Crew, Jake will need to rely on his mantra: Trust no one—not the law, not his girl, not the street cats he helped out years ago, not even his own blood.
About the Author
---
STYLES P (David Styles), a Queens-born, Yonkers-bred emcee, first stepped on the scene as one-third of the famed hip-hop trio the LOX (aka D-Block), a group he formed with childhood friends Jadakiss and Sheek. After guest-starring on multiplatinum singles like "We'll Always Love Big Poppa," and "All About the Benjamins," Styles and the LOX released their albums Money, Power & Respect and We Are the Streets, before the group's members began focusing on solo projects. Styles P's solo projects include A Gangster and a Gentleman, Time Is Money, and Super Gangster (Extraordinary Gentleman). Invincible is his first novel.
Praise For…
---
 
"Styles P definitely came correct with his freshman novel. If you're a fan of his music, then Invincible will not disappoint." —K'wan, #1 Essence bestselling author of Section 8

"As a rapper, Styles has always been a heavily respected voice of the street. It's no surprise that his talent and authenticity translate to the page!" —Angie Martinez, Hot 97

"Invincible is a cleverly crafted hip-hop whodunit that engages the reader from start to finish." —Shannon Holmes, author of Bad Girlz for Life

"Invincible had me on the edge of my seat turning the pages to see what would happen next." —Wahida Clark, New York Times bestselling author of Thug Lovin'

"Styles P has crafted a street masterpiece that can only be told through the eyes of someone who's lived it. 
Invincible is a new hood classic. Authenticity at its best!"—Ashley and JaQuavis, New York Times bestselling authors of The Cartel