The Book On Pie: Everything You Need to Know to Bake Perfect Pies (Hardcover)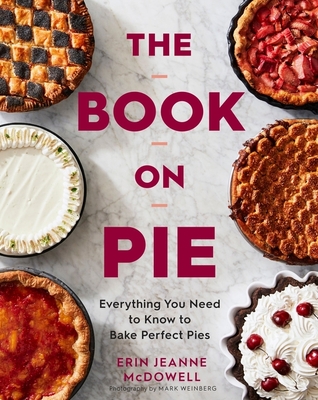 $35.00

Usually Arrives in 3-5 Days
Description
---
A NEW YORK TIMES BESTSELLER 

Look no further than The Book on Pie for the only book on pie you'll ever want or need.

Erin Jeanne McDowell, New York Times contributing baker extraordinaire and top food stylist, wrote the book on pie, a comprehensive handbook that distills all you'll ever need to know for making perfect pies. The Book on Pie starts with the basics, including ways to mix pie dough for extra flaky crusts, storage and freezing, recipe size conversions, and expert tips for decorating and styling, before diving into the recipes for all the different kinds of pies: fruit, custard, cream, chiffon, cold set, savory, and mini. Find everything from classics like Apple Pie and Pumpkin Pie, to more inspired recipes like Birthday-Cake Pie and Caramel Pork Pie with Chile and Scallions.

Erin also suggests recommended pie doughs and toppings with each recipe for infinitely customizable pies: Mix and match Pumpkin Spice Pie Dough and Dark Chocolate Drippy Glaze with the Pumpkin Pie, or sub in the Chive Compound-Butter Crust for the Croque Madame Pielets . . . the possibilities are endless. With helpful tips, photographic guides, and inspirations—pie-deas—it's almost like having Erin in the kitchen baking pies with you.
About the Author
---
 ERIN JEANNE MCDOWELL is an author, recipe developer, and award-winning food stylist with specialized focus in baking. Her first book, The Fearless Baker, was named one of the Best Baking Books of 2017 by The New York Times. She's a regular contributor to New York Times Cooking, Food52 (where she also serves as Baking Consultant at Large), and PureWow. She hosts weekly baking classes on Food Network Kitchen and the series "Bake It Up a Notch" for Food52. Erin has been featured in The New Yorker, New York Magazine, Food and Wine Magazine, Food Network Magazine, and Rachel Ray Magazine. Her work has appeared in The New York Times, The Washington Post, Better Homes and Gardens Magazine, Fine Cooking Magazine, Bake From Scratch Magazine, and Sift Magazine. She lives and works in North Bergen, New Jersey. 
Praise For…
---
"Great news for bakers: Erin Jeanne  McDowell has gone all in on pie! Pies of every kind. So many crusts. And instructions as sharp as a lemon's tang. Erin has an extraordinary talent for explaining—no matter how complex the technique, when she tells us how to do it, we get excited about it, we do it, and we succeed. It's the McDowell wizardry."  —DORIE GREENSPAN, award-winning author of Everyday Dorie and Dorie's Cookies   "I am obsessed with Erin Jeanne McDowell's book. As a non-baker, she has given me intense motivation to make pie—every recipe looks delicious. She's gifted me bravado—every recipe is so clearly written that I don't fear failure. And as a food fanatic, Erin has inspired me with both her classic recipes and her more creative flavor combinations." —DANA COWIN, host of the Speaking Broadly podcast, and former editor-in-chief of Food & Wine   "Erin Jeanne McDowell's Book on Pie is a masterpiece, and so much more than just a cookbook. It's full of informative recipes in Erin's signature friendly style and gorgeous photos that take the guesswork out of how to make everything from perfect dough to some of the most beautiful decorative crusts, juicy fruit fillings, and towering gorgeous toppings I've ever seen. This book has something for everyone, from a beginning pie maker looking to learn the basics to a seasoned one looking to take their pies to the next level. I know I'll be baking from it for years to come!" —YOSSY AREFI, author of Sweeter off the Vine and Snacking Cakes   "With her friendly, hand-holding instructions and photos of exactly what your doughs and fillings should (and shouldn't) look like, Erin Jeanne McDowell has done away with every worry that can vex and intimidate new pie bakers. In the world of The Book on Pie, with Erin cheering for you, pie is easy, pie is fun, pie is anything you want it to be." —KRISTEN MIGLORE, creative director of Genius Food52 and author of Genius Recipes   "With this tome, destined to become the pie-baking bible for many generations to come, Erin Jeanne McDowell takes us on the magnificent journey that made her fall in love with pie. Erin adeptly interweaves the love of home baking with the precision of professional pastry, all the while empowering the reader to be a better baker, without a hint of intimidation. By the end of making your first recipe, you won't be able to decide what you love more: your newly acquired pie skills or Erin herself. For me, it's a tie."     —UMBER AHMAD, founder of Mah-Ze-Dahr Bakery McDowell, baking columnist for Food52, hits the mark in this expert guide to pie making, both sweet and savory. Beginning with a chapter on doughs and crusts, MacDowell lays a foundation with recipes for pie doughs including whole-wheat, gluten-free, and cornmeal, as well as hot-water, puff pastry, and a variety of press-in cookie crusts. Pie recipes are divided into chapters by type, including fruit, custard, and "Cream, Chiffon & Cold Set Pies." The savory section includes an avocado galette, croque monsieur pielets, a "Forager's Mushroom Pie," and a red onion tarte tatin. Must-bake highlights include a stunning blood orange brûlée pie and a free-form domed white chocolate-peppermint pie generously topped with fluffy meringue, and a shrimp boil pie, consisting of potatoes, shrimp, sausage, and corn atop puff pastry. The author's informati —