The Arc of a Covenant: The United States, Israel, and the Fate of the Jewish People (Hardcover)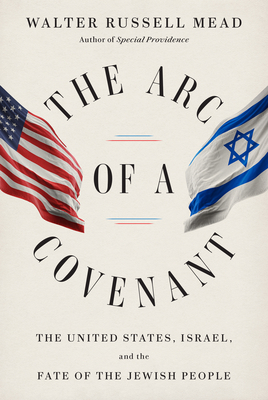 $35.00

Usually Arrives in 3-5 Days
Description
---
A NEW YORK TIMES BEST BOOK OF THE YEAR • A groundbreaking work that overturns the conventional understanding of the Israeli-American relationship and, in doing so, explores how fundamental debates about American identity drive our country's foreign policy.

"A sweeping and masterfully told history"—The New York Times

In this bold examination of the Israeli-American relationship, Walter Russell Mead demolishes the myths that both pro-Zionists and anti-Zionists have fostered over the years. He makes clear that Zionism has always been a divisive subject in the American Jewish community, and that American Christians have often been the most fervent supporters of a Jewish state, citing examples from the time of J.P. Morgan and John D. Rockefeller to the present day.

He spotlights the almost forgotten story of left-wing support for Zionism, arguing that Eleanor Roosevelt and liberal New Dealers had more influence on President Truman's Israel policy than the American Jewish community--and that Stalin's influence was more decisive than Truman's in Israel's struggle for independence. Mead shows how Israel's rise in the Middle East helped kindle both the modern evangelical movement and the Sunbelt coalition that carried Reagan into the White House. Highlighting the real sources of Israel's support across the American political spectrum, he debunks the legend of the so-called "Israel lobby." And, he describes the aspects of American culture that make it hostile to anti-Semitism and warns about the danger to that tradition of tolerance as our current culture wars heat up.

With original analysis and in lively prose, Mead illuminates the American-Israeli relationship, how it affects contemporary politics, and how it will influence the future of both that relationship and American life.
About the Author
---
WALTER RUSSELL MEAD is James Clark Chace Professor of Foreign Affairs and Humanities at Bard College, Ravenel B. Curry III Distinguished Fellow in Strategy and Statesmanship at Hudson Institute, and the Global View columnist at The Wall Street Journal. He served as the Henry A. Kissinger Senior Fellow in American Foreign Policy at the Council on Foreign Relations and as a Brady-Johnson Fellow in Grand Strategy at Yale University. He is the author of four books including God and Gold, and Special Providence: American Foreign Policy and How It Changed the World. He lives in Washington, D.C.
Praise For…
---
A New York Times Best Book of the Year

"A sweeping and masterfully told history . . . The prose is among the best I've encountered in 25 years of reviewing foreign-policy books. . . . Mead manages to keep the book's tone high-minded and generous; when discussing his, or Israel's, adversaries, he always strives to give everyone the benefit of the doubt."—Jonathan Tepperman, The New York Times

"Impressive and timely . . . Magisterial . . . Mead leads us with an even tone and expert hand through centuries of history, and through disparate topics. . . . An ambitious and idiosyncratic history of large swaths of Western politics and thought. Implicitly, and perhaps even more important, the book makes a case that complicated and sensitive topics can still be covered with balance, sympathy, and even occasional humor."—Matti Friedman, The Atlantic

"An essential contribution to the literature of politics and diplomacy in the Middle East . . . Writing fluently and with a depth born of decades of study, Mead urges that Israelis and Palestinians work harder to achieve ever elusive peace in the region."—Kirkus Reviews (starred review)

"Magisterial . . . Mead's assessment of the complicated entanglement of Jews, Israel and the United States testifies powerfully to . . . the imperative to understand the past to ensure the future. I suspect that Mead wrote this book to guide us there. The Arc of a Covenant, drawing from the past to speak to today, merits a wide audience."—Pamela S. Nadell, The Washington Post

"Engagingly written, intensely thought-provoking and very compelling... [This is] certainly not another standard diplomatic history... Rather, Mead's work offers a sweeping and eye-opening review of the history of America's domestic and foreign policies, and how these policies have shaped and have been shaped by the American–Israeli relationship." —David Rodman, Israel Affairs

"Mead's is a singular achievement . . . that will be hard to replicate, in either its breadth or its balanced arguments. . . . The sweeping history, spanning from the 18th century to the present, could have come only from a first-class writer, storyteller, and generalist like Mead."—Daniel G. Hummel, Christianity Today

"[An] epic history . . . Perhaps better than any other book yet written, it reveals the sources of American Zionism, back to America's own founding. . . . The Arc of a Covenant is history on a grand scale — intellectual, social, cultural, political."—Mario Loyola, Washington Examiner

"[The Arc of a Covenant is] a wonderful book. . . . It really plumbs historical depth with depth and a lot of wisdom and probing insights. . . . You should read it."—Benjamin Netanyahu, Prime Minister of Israel

"In his history of America, Israel, and the Jewish people, Walter Russell Mead deftly explores contentious issues with powers of empathy and analysis for which he is known from his columns. The Arc of a Covenant is an extraordinary contribution to the growing literature on the complexities and opportunities of U.S. foreign policy in Europe and the Middle East. A thoughtful, learned, and engaging book."—Henry Kissinger

"Passionate and scholarly, insightful and inspiring, The Arc of a Covenant is an essential work for historians, journalists, and decision-makers, and all those wishing to understand the depth of the U.S.-Israel relationship. Walter Russell Mead, the world's leading expert on the role of faith in American foreign policy, has provided us with a masterwork."—Michael Oren, former Israeli ambassador to the United States

"Walter Russell Mead is today's most penetrating writer on geopolitics because he also is an extraordinarily accomplished historian. Readers of this mind-opening book will acquire a fresh understanding of the United States, of Israel, and of the surprisingly complex relations between two of the world's most vibrant democracies."—George F. Will, syndicated columnist

"The Arc of a Covenant reshapes our understanding of the American-Israel relationship and its Jewish components, elegantly dispatching misconceptions and prejudices to show the genuine dynamics at work. An erudite, graceful, and altogether necessary work."—Rabbi David Wolpe, author of Why Faith Matters

"Big, brilliant, and ambitious, The Arc of a Covenant feels like the definitive word on a thorny topic that has exceeded the grasp of most authors—until now. Meticulous, panoramic, and brimming with intellectual generosity, Walter Russell Mead has written something essential for anyone interested in the history of ideas that shaped the American imagination of Israel and the Jewish people. In so doing, he also manages the unlikely and welcome feat of helping us understand something new about the American idea itself."—Shadi Hamid, author of Islamic Exceptionalism

"The Arc of a Covenant is not only a book about the history of the U.S.-Israel relationship, it is a fascinating and erudite exploration of the moral, political, and economic currents and cross-winds that shape American foreign policy. At a time when those forces are once again buffeting the United States, it's a thought-provoking and valuable read."—Anne-Marie Slaughter, CEO, New America

"No writer on the complexities of American foreign policy is better at getting to the heart of the matter than Walter Russell Mead. And no issue is more in need of the Mead treatment than the U.S.-Israel relationship. Dismissive of those who obsessively see an 'Israel lobby' behind every American move in the region, Mead shows how successive administrations have pursued the elusive 'peace in the Middle East' as much for domestic as for strategic reasons. You will think differently about American and Jewish history after reading this ambitious book."—Niall Ferguson, author of Doom: The Politics of Catastrophe

"Walter Russell Mead is undoubtedly the preeminent expert on how U.S. foreign policy is shaped by American political, cultural and religious processes. The Arc of a Covenant is the definitive book on how the highly-contested U.S. relationship with Israel has been crafted over time by national institutions and conversations. This indispensable analysis of a widely misunderstood issue is likely to remain essential for decades."—Hussein Ibish, Senior Resident Scholar, Arab Gulf States Institute in Washington

"Few authors make sense of American foreign policy as convincingly as Walter Russell Mead. In The Arc of a Covenant, Walter shows that U.S. support for Israel is ingrained in American political culture and critical to America's strategy for world order. This book is indispensable reading for everyone who cares about the future of U.S.-Israel relations."—Dan Senor, coauthor of Start-Up Nation: The Story of Israel's Economic Miracle