Europe's Last Summer: Who Started the Great War in 1914? (Paperback)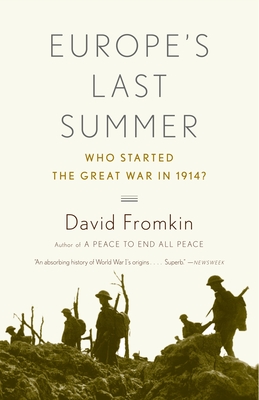 Description
---
When war broke out in Europe in 1914, it surprised a European population enjoying the most beautiful summer in memory. For nearly a century since, historians have debated the causes of the war. Some have cited the assassination of Archduke Franz Ferdinand; others have concluded it was unavoidable.

In Europe's Last Summer, David Fromkin provides a different answer: hostilities were commenced deliberately. In a riveting re-creation of the run-up to war, Fromkin shows how German generals, seeing war as inevitable, manipulated events to precipitate a conflict waged on their own terms. Moving deftly between diplomats, generals, and rulers across Europe, he makes the complex diplomatic negotiations accessible and immediate. Examining the actions of individuals amid larger historical forces, this is a gripping historical narrative and a dramatic reassessment of a key moment in the twentieth-century.
About the Author
---
David Fromkin is University Professor and Professor of History at Boston University. He is the author of In the Time of the Americans, a History Book Club selection, and the national best-seller A Peace to End All Peace, which was a finalist for both the National Book Critics Circle Award and the Pulitzer Prize and was singled out by the New York Times Book Review as one of the thirteen "Best Books of the Year" in 1989. He lives in New York City.
Praise For…
---
"An absorbing history of WWI's origins. . . . Superb." –Newsweek

"An enormously impressive book, a popular history brimming with fresh scholarship."--The Weekly Standard

"No one has deconstructed the war quite the way Fromkin has.... Through it all are the telling details of diplomatic and military life that make the period so utterly tragic." --The Boston Globe

"A crisp, lively, day-by-day account of that fateful summer . . . This book, both decisive and nuanced, is as convincing as it is appalling." –Foreign Affairs

"Excellent . . . Europe's Last Summer never bogs down, covers the ground, and makes its points. It is also charmingly written." –The New Criterion

"Magnificent, consistently compelling. . . . Written with clarity and insight. . . . [Fromkin] masterfully guies us through the complexities of appropriate prewar and European diplomatic and military history." –BookPage

"The boldness of Formkin's argument is enough to warrant attention, but his fluidity of expression guarantees a large audience."–Booklist (starred)

"Fromkin's thoroughgoing account gives answers that only new research and previously too-often hidden records could provide. . . . Comes to new conclusions."–Richmond Times-Dispatch

"A fast-paced, gripping guide through the complex set of reasons and emotions that led to the 20th century's seminal conflict." –CNN.com