Tour Tempo: Golf's Last Secret Finally Revealed (Hardcover)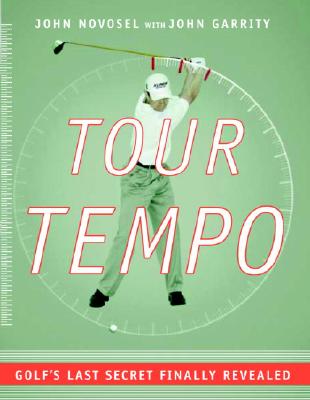 Description
---
What swing secret is shared by nearly all golf greats – from Ben Hogan to Tiger Woods?
John Novosel's revolutionary breakthrough has cracked the "genetic code" of the golf swing – Tour Tempo.


Tiger Woods…Greg Norman…Ben Hogan. What secret do these and nearly all golf legends share? Identical swing tempo. John Novosel has cracked the "genetic code" of the golf swing – and has derived a simple and effective system to teach it to golfers of all levels, from tour players to weekend warriors.


This book includes a revolutionary instructional CD, featuring videos that illustrate exactly how to learn the tempo secrets of the tour pros, and a calibrated soundtrack that you can use while practicing at a driving range or in your living room.

As an avid golfer and inventor, John Novosel studied film footage of the PGA greats, searching, along with countless others over the last century, for the key to what made certain golfers' swings so effortless and powerful. Novosel made a startling discovery. Nearly every champion demonstrated identical time proportion in his or her swing, a common ratio between takeaway and downswing. Regardless of style or form, the winning tempo was always the same – Tour Tempo.

In this breakthrough book, Novosel and Sports Illustrated senior writer John Garrity explain exactly how to achieve Tour Tempo. Through clear, step-by-step instruction, golfers are taught how to master two basic drills to synchronize their swings. Novosel's technique has yielded rapid and tremendous improvement for players of every level –adding distance, automatically correcting typical swing problems, and noticeably shaving strokes off one's game.

TOUR TEMPO is a remarkable breakthrough – truly golf's last secret finally revealed.
About the Author
---
JOHN NOVOSEL is a businessman and inventor who holds patents on four golf training devices, including the highly acclaimed swing aid XLR8R® (pronounced "Accelerator"), which is endorsed by many top coaches and used by numerous PGA and LPGA golfers.

JOHN GARRITY is a senior writer for Sports Illustrated, a columnist for si.com, and author of more than a dozen books.

Visit the author's website at www.TourTempo.com
Praise For…
---
"I have been playing golf for 50 years and during that span of time I have had over 200 private lessons and attended four national golf schools, but I have not found anything that gets results like the Tour Tempo system. I had a 20-year problem of 'coming over the top' and pulling my shots. With John Novosel's system, I cured that 20-year problem and am finally hitting the ball consistently straight!"
Dr. Lynn Ketchum, surgeon

"After working with John Novosel for only one hour, my swing speed went from 84 mph to 104 mph. My drives on the course started going 40 yards farther; my dad couldn't believe it, I was out-driving him by 20 yards!"
Shawna Bajich, accountant


"I started John Novosel's Tour Tempo system a year ago as a 17 handicapper: today I shot a 33-38 for a 71, the first time I've ever beaten par on 9 holes and 18 holes. Wow!"
John Ross, businessman

"Before I met John Novosel , everything I did just added more thoughts to my swing -- and the more thoughts I added, the worse the results I got. What I like about his program is that it reduces the swing thoughts while increasing the results. Within one week after starting with John, I increased my clubhead speed by 20 mph and started hitting the best shots of my life. It's just made a monstrous difference in my game!"
Rob Jonas, chief financial officer


"I have never hit the ball as solidly as I did after 15 minutes of training with John Novosel's Tour Tempo System. It increased my swing speed with a 5 iron from 79 mph to 99 mph, adding an average of 35 to 40 yards with every club!"
Bruce Provo, businessman