Daughters of the Flower Fragrant Garden: Two Sisters Separated by China's Civil War (Hardcover)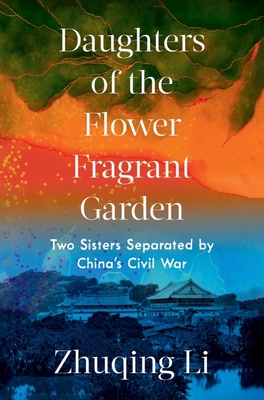 $27.95

Usually Arrives in 3-5 Days
Description
---
Sisters separated by war forge new identities as they are forced to choose between family, nation, and their own independence.
Jun and Hong were scions of a once great southern Chinese family. Each other's best friend, they grew up in the 1930s during the final days of Old China before the tumult of the twentieth century brought political revolution, violence, and a fractured national identity. By a quirk of timing, at the end of the Chinese Civil War, Jun ended up on an island under Nationalist control, and then settled in Taiwan, married a Nationalist general, and lived among fellow exiles at odds with everything the new Communist regime stood for on the mainland. Hong found herself an ocean away on the mainland, forced to publicly disavow both her own family background and her sister's decision to abandon the party. A doctor by training, to overcome the suspicion created by her family circumstances, Hong endured two waves of "re-education" and internal exile, forced to work in some of the most desperately poor, remote areas of the country.
Ambitious, determined, and resourceful, both women faced morally fraught decisions as they forged careers and families in the midst of political and social upheaval. Jun established one of U.S.-allied Taiwan's most important trading companies. Hong became one of the most celebrated doctors in China, appearing on national media and honored for her dedication to medicine. Niece to both sisters, linguist and East Asian scholar Zhuqing Li tells her aunts' story for the first time, honoring her family's history with sympathy and grace. Daughters of the Flower Fragrant Garden is a window into the lives of women in twentieth-century China, a time of traumatic change and unparalleled resilience. In this riveting and deeply personal account, Li confronts the bitter political rivals of mainland China and Taiwan with elegance and unique insight, while celebrating her aunts' remarkable legacies.
About the Author
---
Zhuqing Li is a professor of East Asian Studies at Brown University and the author of four scholarly books on Chinese linguistics. She lives in Providence, Rhode Island.
Praise For…
---
Exceptional...Daughters of the Flower Fragrant Garden is not a history of Taiwan-China relations, but in telling this gripping narrative of one family divided by the 'bamboo curtain,' Li sheds light on how Taiwan came to be — and why China might one day risk everything to take it.

— Deirdre Mask - New York Times

[Li] recounts this real-life saga of rupture and reunion in propulsive, poignant detail. The book's gripping narrative reveals the devastating human cost of the Chinese Revolution and will resonate, in particular, with anyone whose family has been severed by political events... The author's perspective, from having lived both inside and outside the People's Republic of China, yields exceptional insight into her aunts' personal histories and the constantly shifting political vicissitudes they endured. She unspools the unexpected, accidental swerves each life took with spellbinding grace. Here, in the pages of her book, she has knit together the family story as it was lived in both Chinas.
— Diane Cole - Wall Street Journal

At last, a profoundly human story that illuminates the staggering personal consequences of China and Taiwan's historic split—from both sides. Rare is the author who can portray war and its aftermath so evenhandedly. This powerful page-turner of a family torn apart—and surviving—is as unforgettable as it is important.
— Nicole Mones, author of The Last Chinese Chef

With sensitivity and sincerity, Daughters of the Flower Fragrant Garden takes readers through the most complicated, difficult, sorrowful, and indecipherable years in China's modern history.

— Ai Wei Wei, author of 1000 Years of Joys and Sorrows

A heartrending story, beautifully told, about the struggles and triumphs of two sisters separated by the Taiwan Strait, but united in their determination to pursue meaningful lives amid political upheaval. I couldn't stop reading it.
— Amy Stanley, author of Stranger in the Shogun's City

In gorgeous prose, Zhuqing Li tells a story that is at once distinctive and familiar, of Chinese families of a certain generation that lived through wars, revolutions, separations, and reunions. I couldn't put it down. A lovely book.
— Mae Ngai, author of The Chinese Question

Beginning in war-torn China, Daughters of the Flower Fragrant Garden tells a compelling story about diaspora, root-seeking, and the triumph of familial love and human perseverance.

— David Wang, author of The Lyrical in Epic Time

Zhuqing Li has captured the agonizing struggle of late-twentieth-century Chinese history within the microcosm of her own extraordinary family. This is a tale of accidental exile, capitalism and communism, medicine and mercantilism, lifelong nostalgia and willful forgetting, and the breathtaking resilience of two sisters, Li's indomitable aunts. How lucky we are that their niece has the skill and devotion to tell their story so well.
— Janice Nimura, author of The Doctors Blackwell

Beautifully woven family memories coalesce into a vivid history of two very different Chinas.
— Kirkus Reviews

A very personal story informed by a scholarly set of interests...a memoir and family history, driven by the author's interest in figuring out the things that the family didn't talk about.
— Jeffrey Wasserstrom - Fivebooks.com