The Rape of Nanking: The Forgotten Holocaust of World War II (Paperback)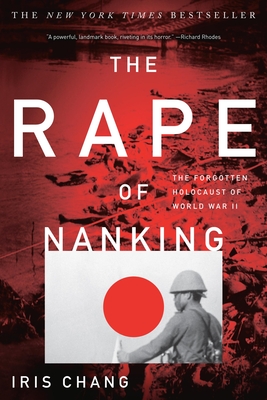 $19.99

Usually Arrives in 3-5 Days
Description
---
The New York Times bestselling account of one of history's most brutal—and forgotten—massacres, when the Japanese army destroyed China's capital city on the eve of World War II, "piecing together the abundant eyewitness reports into an undeniable tapestry of horror". (Adam Hochschild, Salon)

In December 1937, one of the most horrific atrocities in the long annals of wartime barbarity occurred. The Japanese army swept into the ancient city of Nanking (what was then the capital of China), and within weeks, more than 300,000 Chinese civilians and soldiers were systematically raped, tortured, and murdered. In this seminal work, Iris Chang, whose own grandparents barely escaped the massacre, tells this history from three perspectives: that of the Japanese soldiers, that of the Chinese, and that of a group of Westerners who refused to abandon the city and created a safety zone, which saved almost 300,000 Chinese.

Drawing on extensive interviews with survivors and documents brought to light for the first time, Iris Chang's classic book is the definitive history of this horrifying episode.
About the Author
---
Iris Chang (1968-2004) lived and worked in California. A graduate of the University of Illinois at Urbana, she was the recipient of the John T. and Catherine D. MacArthur Foundation's Program on Peace and International Cooperation award, as well as major grants from the National Science Foundation, the Pacific Cultural Foundation, and the Harry Truman Library. 
Praise For…
---
"The first comprehensive examination of the destruction of this Chinese imperial city...Ms. Chang, whose grandparents narrowly escaped the carnage, has skillfully excavated from oblivion the terrible events that took place." —The Wall Street Journal

"In her important new book ... Iris Chang, whose own grandparents were survivors, recounts the grisly massacre with understandable outrage."—Orville Schell, The New York Times Book Review

"A powerful new work of history and moral inquiry. Chang takes great care to establish an accurate accounting of the dimensions of the violence."—Chicago Tribune

"Chang vividly, methodically, records what happened, piecing together the abundant eyewitness reports into an undeniable tapestry of horror."—Adam Hochschild, Salon

"The story that Chang tells is almost to appalling for words...a carefully documented cry of moral outrage."—Houston Chronicle

"Chang reminds us that however blinding the atrocities in Nanking may be, they are not forgettable—at least without peril to civilization itself."—The Detroit News

"A compelling piece of history that speaks volumes about humankind's inhumanity in the atrocities that have been documented and offers some vestiges of hope in the individual acts of heroism that also have been uncovered."—San Jose Mercury News

"A very readable, well-organized account...Chang has rescued this episode from its undeserved obscurity."—Russell Jenkins, National Review

"Meticulously Researched...A gripping account that holds the reader's attention from beginning to end." —Nien Cheng, author of Life and Death in Shanghai

"Iris Chang's research on the Nanking holocaust yields a new and expanded telling of this World War II atrocity and reflects thorough research. The book is excellent; its story deserves to be heard."—Beatrice S. Bartlett, professor of history, Yale University

"Heartbreaking.... An utterly compelling book. The descriptions of the atrocities raise fundamental questions not only about imperial Japanese militarism but the psychology of the torturers, rapists, and murderers."—Frederic Wakeman, director of the Institute of East Asian Studies, University of California, Berkeley

"Something beautiful, an act of justice, is occurring in America today concerning something ugly that happened long ago.... Because of Chang s book, the second rape of Nanking is ending."—George F. Will, syndicated columnist

"Anyone interested in the relation between war, self-righteousness, and the human spirit will find The Rape of Nanking of fundamental importance. It is scholarly, an exciting investigation, and a work of passion. In places it is almost unbearable to read, but it should be readonly if the past is understood can the future be navigated."—Ross Terrill, author of Mao, China in Our Time, and Madame Mao

"A powerful, landmark book, riveting in its horror." —Richard Rhodes

"One of the most important books of the twentieth century, Iris Chang's The Rape of Nanking wil endure as a classic among the world's histories of war."—Nancy Tong, producer and co-director of In the Name of the Emperor