Alone Together: Why We Expect More from Technology and Less from Each Other (Paperback)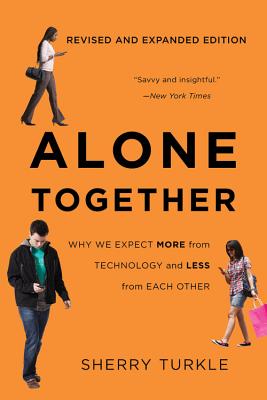 $18.99

Usually Arrives in 3-5 Days
Description
---
A groundbreaking book by one of the most important thinkers of our time shows how technology is warping our social lives and our inner ones

Technology has become the architect of our intimacies. Online, we fall prey to the illusion of companionship, gathering thousands of Twitter and Facebook friends, and confusing tweets and wall posts with authentic communication. But this relentless connection leads to a deep solitude. MIT professor Sherry Turkle argues that as technology ramps up, our emotional lives ramp down. Based on hundreds of interviews and with a new introduction taking us to the present day, Alone Together describes changing, unsettling relationships between friends, lovers, and families.
About the Author
---
Sherry Turkle is the Abby Rockefeller Mauzé Professor of the Social Studies of Science and Technology in the Program in Science, Technology, and Society at MIT and the founder and director of the MIT Initiative on Technology and Self. She lives in Boston, Massachusetts.
Praise For…
---
"Nobody has ever articulated so passionately and intelligently what we're doing to ourselves by substituting technologically mediated social interaction.... Equipped with penetrating intelligence and a sense of humor, Turkle surveys the front lines of the social-digital transformation."—Lev Grossman, TIME

"Vivid, even lurid, in its depictions of where we are headed... [an] engrossing study."—Washington Post

"In this beautifully written, provocative and worrying book, Turkle, a professor at MIT, a clinical psychologist and, perhaps, the world's leading expert on the social and psychological effects of technology, argues that internet use has as much power to isolate and destroy relationships as it has to bring us together."
—Financial Times

"A fascinating portrait of our changing relationship with technology."—Newsweek.com

"[Turkle] summarizes her new view of things with typical eloquence...fascinating, readable."—New York Times Book Review

"Important.... Admirably personal.... [Turkle's] book will spark useful debate."—Boston Globe

"Turkle is a sensitive interviewer and an elegant writer."—Slate.com

"Savvy and insightful."
—New York Times

"What [Turkle] brings to the topic that is new is more than a decade of interviews with teens and college students in which she plumbs the psychological effect of our brave new devices on the generation that seems most comfortable with them."
—Wall Street Journal

"Amidst the deluge of propaganda, technophilia and idolatry that masquerades as objective assessment of digital culture, Turkle offers us galoshes and a sump pump.... [S]he gives a clear-eyed, reflective and wise assessment of what we gain and lose in the current configurations of digital culture."
—Christian Century

"Readers will find this book a useful resource as they begin conversations about how to negotiate and critically engage the technology that suffuses our lives."—National Catholic Reporter

"Turkle is a gifted and imaginative writer... [who] pushes interesting arguments with an engaging style."—American Prospect

"Disturbing. Compelling. Powerful."—Seattle Times

"Turkle's prescient book makes a strong case that what was meant to be a way to facilitate communications has pushed people closer to their machines and further away from each other."
—Publishers Weekly

"The picture that arises from [Alone Together] is not particularly comforting but it is always compelling and helps explain many behaviors one sees at play in society at large these days, especially among the young."—Jewish Exponent

"Highly recommended."
—Choice

"Turkle's emphasis on personal stories from computer gadgetry's front lines keeps her prose engaging and her message to the human species-to restrain ourselves from becoming technology's willing slaves instead of its guiding masters-loud and clear."—Booklist

"Alone Together... is packed with creative observations on our machine-mediated lives and what this all means for intimacy, solitude, and being connected."
—Spirituality and Practice

"Turkle is too smart and hard-working to see technology solely as a cause of social or psychological disorders: this is not the book to read for shallow complaints that young people don't care about privacy or for scare stories about internet addiction."
—ZDNet UK

"Compelling."—Library Hot blog

"Clear-eyed, even-keeled."—Touch Points blog

"Alone Together is a mighty fine layperson's introduction to where we are as a technological and social media society."—BlogCritics.org

"[Turkle's] decades of teaching technology and daily living add authority to her fine survey!"—Bookwatch

"Turkle is clearly passionate in describing what she sees as the looming social isolation being wrought by the new technology.... Alone Together does offer a needed counter to the wholesale adoption of the social media and social robot."—PsyCritiques

"Alone Together stands as an entirely accessible, tantalizingly thought-provoking read.... Books like this and researchers like Turkle lending their expertise to the debate are absolute necessities."—Online Education Database