Mirror in the Sky: The Life and Music of Stevie Nicks (Hardcover)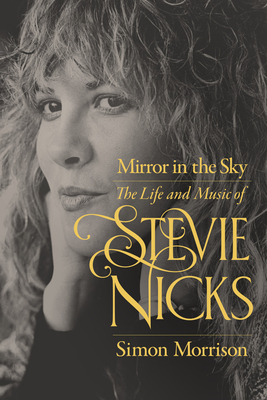 $24.95

Usually Arrives in 3-5 Days
Description
---
A stunning musical biography of Stevie Nicks that paints a portrait of an artist, not a caricature of a superstar.
Reflective and expansive, 
Mirror in the Sky 
situates Stevie Nicks as one of the finest songwriters of the twentieth century.
This biography from distinguished music historian Simon Morrison examines Nicks as a singer and songwriter before and beyond her career with Fleetwood Mac, from the Arizona landscape of her childhood to the strobe-lit Night of 1000 Stevies celebrations.
The book uniquely:
Analyzes Nicks's craft—the grain of her voice, the poetry of her lyrics, the melodic and harmonic syntax of her songs.
Identifies the American folk and country influences on her musical imagination that place her within a distinctly American tradition of women songwriters.
Draws from oral histories and surprising archival discoveries to connect Nicks's story to those of California's above- and underground music industries, innovations in recording technology, and gendered restrictions.
About the Author
---
Simon Morrison teaches music history at Princeton University.
Praise For…
---
"Written with respect and admiration, Mirror in the Sky analyzes Stevie Nicks's music with care, noting how it expressed the sentiments of a generation."
— Foreword Reviews

"Morrison's extensively researched biography does not shy away from Nicks's battles with addiction and emphasizes how as a woman musician, she has had to work harder and be better than the men around her. Nicks fans will appreciate Morrison's care in the details of her songwriting and the song production."
— Library Journal

"Stevie Nicks the artist whirls to life in these pages, a woman fiercely committed to her own blazing imagination and powers of perception. With meticulous research, a light touch and understated wit, Simon Morrison charts the rise in influence of Fleetwood Mac's black-laced, iron-willed sylph, whose irrepressible freedom continues to haunt the past and present of popular music and female artistry."
— Sarah Kaufman, Washington Post

[E]nlightening . . . I enjoyed reading Mirror in the Sky . . . Most important, Morrison sent me back to Nicks's catalogue, including gems I'd overlooked or missed."
— Air Mail

"A richly crafted yet never fawning biography of one of rocks most beloved and iconic artists. Awe inspiring in detail but never too technical, Morrison writes a highly accessible book for both the casual fan and the true aficionado. One comes away with a heightened appreciation for Nicks musical talent as well as her very unique journey. One of the best written and most articulate music biographies in recent memory."
— Eddie Dalva, Executive Vice President, MTV Networks

"There are lots of music biographies out there, but few are as in-depth, intelligently written, and expertly researched as Mirror in the Sky. Penned by Simon Morrison, the book extends beyond a simple recap of the events, as it analyzes the songwriting craft of Nicks, places her within a greater artistic context of American folk and country, and dives deep into the archives to produce the most accurate account possible."
— Consequence Sound

"[Morrison's] narrative centers on Stevie's remarkable gifts as a songwriter, musical artist, and visionary, which have been historically downplayed by journalists and even her musical partners. Delving into the 'fandom,' Mirror in the Sky is refreshingly different from past books on Stevie Nicks."
— Stevie Nicks info site

"A warmly affectionate and discerning critical biography."
— Stuart Mitchner

"The analyses of Nicks's songs, both monumental and lesser lights, are spellbinding. . . . Another important note about this book is Morrison's respectful voice and tone in his interpretation of Nicks's persona and of feminism in general. . . . I strongly recommend this biography for all collections of popular music."
 
— Notes