Beginners: The Joy and Transformative Power of Lifelong Learning (Paperback)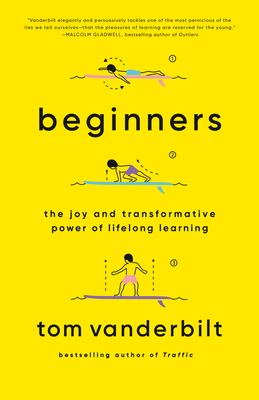 Description
---
An insightful, joyful tour of the transformative powers of starting something new, no matter your age—from the bestselling author of Traffic and You May Also Like

"Vanderbilt elegantly and persuasively tackles one of the most pernicious of the lies we tells ourselves—that the pleasures of learning are reserved for the young." —Malcolm Gladwell, bestselling author of Outliers

Why do so many of us stop learning new skills as adults? Are we afraid to be bad at something? Have we forgotten the sheer pleasure of beginning from the ground up? Inspired by his young daughter's insatiable curiosity, Tom Vanderbilt embarks on a yearlong quest of learning—purely for the sake of learning. Rapturously singing Spice Girls songs in an amateur choir, losing games of chess to eight-year-olds, and dodging scorpions at a surf camp in Costa Rica, Vanderbilt tackles five main skills but learns so much more. Along the way, he interviews dozens of experts about the fascinating psychology and science behind the benefits of becoming an adult beginner and shows how anyone can get better at beginning again—and, more important, why they should take those first awkward steps. Funny, uplifting, and delightfully informative, Beginners is about how small acts of reinvention, at any age, can make life seem magical.
About the Author
---
TOM VANDERBILT has written for many publications, including The New York Times Magazine, The Wall Street Journal Magazine, Popular Science, and Smithsonian. He is the author of Traffic: Why We Drive the Way We Do (and What It Says About Us) and two other books. He has appeared on a wide range of television and radio programs, from the Today show to the BBC's World Service to NPR's Fresh Air. He lives in Brooklyn, New York.
Praise For…
---
"An entertaining read. . . . Beginners provides a primer of sorts for re-engaging with life. . . . We could do worse than to find new pursuits to embrace with the open-minded zeal of a child; to rediscover the intrinsic wonders of the world through the eyes of a beginner."
—The New York Times

"This is Vanderbilt's great revelation—that in a world where apps constantly rate us and measure our performance . . . we should enjoy the process more and worry less about the product. . . . This book conveys that pleasure and is itself a pleasure to read."
—The Guardian
 
"Vanderbilt is a winning and insightful guide to the mechanics of mastery. But Beginners is ultimately about more than learning. It's about the possibilities that reside in all of us."
—Daniel H. Pink, New York Times bestselling author of When

"Vanderbilt is good on the specific joys and embarrassments of being a late-blooming novice, or "kook," as surfers sometimes call gauche beginners. . . . I was entranced. . . . If learning like a child sounds a little airy-fairy, whatever the neuroscience research says, try recalling what it felt like to learn how to do something new when you didn't really care what your performance of it said about your place in the world, when you didn't know what you didn't know. It might feel like a whole new beginning."
—Margaret Talbot, The New Yorker
 
"[Vanderbilt] describes frankly (and humorously) the embarrassment that comes with repeated failures as well as quiet triumphs. . . . The joy is transcendent."
—Christian Science Monitor
 
"Accessible and highly informative, the book is a fast-paced exploration of the science of skill acquisition and a delightful account of journalist Vanderbilt's personal adventures among fellow new learners. . . . Despite the inevitable setbacks, his is an empowering story that will have adventuresome readers eager to head off in search of some new challenge the moment they've put it down.  An engaging perspective on the joys of embarking on the process of learning something new." —Shelf Awareness
 
"Vanderbilt makes a compelling case that learning something new has myriad advantages, including promoting the brain's ability to rewire itself, connecting you to new people and new communities, and reengaging our innate curiosity and open-mindedness."
—Outside

"Tom Vanderbilt takes up pursuits that are actually fun—surfing, chess, even juggling—and finds power in being a novice." 
—Bloomberg
 
"Vanderbilt's book is, above all, a call to action."
—CNN Health
 
"Beginners belongs with David Epstein's Range on the list of books that have changed the way I understand my own limitations."
—Malcolm Gladwell, bestselling author of Outliers
 
"Tom Vanderbilt's book explores how to learn completely new skills, how to change our world – even after we're supposed to be done with schooling. This is a book about how to become a beginner again, and it makes you want to plunge in with both feet." 
—Charles Duhigg, author of The Power of Habit and Smarter Faster Better
 
"A thoughtful and stirring look into the art and science of lifelong learning. Currently, I'm learning Gaelic, dressmaking and how to lay floors. Last year, it was knitting and coding. I'm 50, and not supposed to be a beginner any more—according to society's conventions—but Tom Vanderbilt turns that flawed assumption on its head with the grace with which he learns to reach a high note or surf a wave."
—Rose George, author of Ninety Percent of Everything

"A great book about the power of being a beginner."
—Gretchen Rubin, author of The Happiness Project

"Tom Vanderbilt shows us why it's never too late to be a beginner, and that there should be no shame associated with the word 'dilettante.' Now I'm off to learn how to play the trombone, speak Portuguese and bake soufflés"
—A.J. Jacobs, bestselling author of The Year of Living Biblically

"A wonderful and inspirational book. The only thing that will make you put it down is a burning desire to try something new. It's full of the sort of encouragement and wisdom that bridges the small, tricky gulf between enthusiasm and action. A book that will launch thousands of journeys that might not otherwise have happened and prove life-changing for many who take those first steps."
—Tristan Gooley, author of The Natural Navigator

"You don't have to try all the activities that Tom Vanderbilt took on in his heroic, self-sacrificial effort to persuade us of the benefits of learning throughout life. After you read this invigorating book, you might want to take a nap. But then you'll get up, refreshed, ready to learn a new skill. You'll be ready to begin."
—Carol Tavris, Ph.D., co-author of Mistakes Were Made (But Not By Me)

"An uplifting, fascinating book about the value and addictive pleasure of returning to the status of a beginner. Vanderbilt is a fantastic writer. . . . Delightful."
—Barbara Oakley, Ph.D, co-author of Uncommon Sense Teaching

"Witty, well-researched, myth-busting and curiously of the moment. Vanderbilt tells a compelling tale. Eighty pages in, I joined a choir." 
—Robert Penn, author of It's All About the Bike: The Pursuit of Happiness on Two Wheels

"It's impossible to pick up a book by Tom Vanderbilt without learning something. An engaging and fascinating mix of the personal and the general. I never thought I'd read a book that could persuade me to take up juggling, but this one did it."
—Robert Colvile

"[Vanderbilt] composes lucid prose and explains concepts . . . with relative ease, and his thesis is practical and worthwhile. . . . Compelling. . . . A solid beginner's guide to beginning."
—Kirkus
 
"[A] charming celebration of lifelong learning. . . . [Vanderbilt] makes a persuasive case for the benefits—cognitive, physical, emotional, and social—of being a beginner. This enjoyable reminder to embrace the 'small acts of reinvention, at any age, that can make life seem magical' will appeal to those who enjoyed Robert Pirsig's Zen and the Art of Motorcycle Maintenance."
—Publishers Weekly