What Comes Next (Paperback)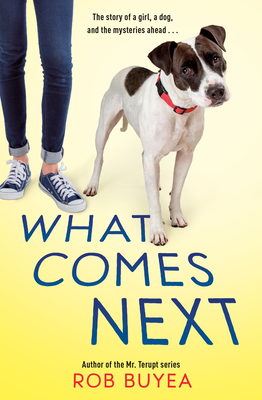 $8.99

On Our Shelves Now - May Be on Hold for Another Customer
Description
---
From the beloved author of the MR. TERUPT and PERFECT SCORE series comes this stand-alone middle-grade novel about a girl who is dealing with the tragic loss of her best friend, and the dog that helps her forge new friendships and find happiness once again.

Twelve-year-old Thea and her family are moving to a new town for a fresh start--her parents' bright idea. To Thea, it feels like running away. She lost her best friend, Charlie, in a tragic accident, and in the painful aftermath, she has gone mute. Her two younger sisters, however, are excited about moving, especially after their dad promises that the family will get a rescue puppy. This doesn't change Thea's mind, though, until Jack-Jack bounds into her life and makes it clear that he is no ordinary dog. As she bonds with Jack-Jack, and as the dog's mischievous ways steer her toward someone she can confide in, Thea opens up to the possibility of new friendships and forgiveness, and comes to believe in what cannot be fully explained.
About the Author
---
ROB BUYEA is a former teacher and the author of the MR. TERUPT series and PERFECT SCORE series. His life has been enriched by numerous dogs since he was a young boy. He lives in Massachusetts with his wife, daughters, and two rescue pups. Visit him online at RobBuyea.com and follow @RobBuyea on Twitter.
Praise For…
---
"Upbeat, unflinching, and solid." —Kirkus Reviews

"This novel of pet adoption and community emanates warmth with a satisfying brevity and unembellished storytelling." —Publishers Weekly