1000 Years of Joys and Sorrows: A Memoir (Hardcover)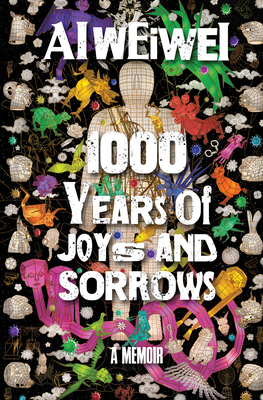 Description
---
The "intimate and expansive" (Time) memoir of "one of the most important artists working in the world today" (Financial Times), telling a remarkable history of China over the last hundred years while also illuminating his artistic process
 
"Poignant . . . An illuminating through-line emerges in the many parallels Ai traces between his life and his father's."—The New York Times Book Review (Editors' Choice)
 
ONE OF THE BEST BOOKS OF THE YEAR: Time, BookPage, Booklist, Kirkus Reviews
 
Once a close associate of Mao Zedong and the nation's most celebrated poet, Ai Weiwei's father, Ai Qing, was branded a rightist during the Cultural Revolution, and he and his family were banished to a desolate place known as "Little Siberia," where Ai Qing was sentenced to hard labor cleaning public toilets. Ai Weiwei recounts his childhood in exile, and his difficult decision to leave his family to study art in America, where he befriended Allen Ginsberg and was inspired by Andy Warhol and the artworks of Marcel Duchamp. With candor and wit, he details his return to China and his rise from artistic unknown to art world superstar and international human rights activist—and how his work has been shaped by living under a totalitarian regime.

Ai Weiwei's sculptures and installations have been viewed by millions around the globe, and his architectural achievements include helping to design the iconic Bird's Nest Olympic Stadium in Beijing. His political activism has long made him a target of the Chinese authorities, which culminated in months of secret detention without charge in 2011. Here, for the first time, Ai Weiwei explores the origins of his exceptional creativity and passionate political beliefs through his life story and that of his father, whose creativity was stifled.

At once ambitious and intimate, Ai Weiwei's 1000 Years of Joys and Sorrows offers a deep understanding of the myriad forces that have shaped modern China, and serves as a timely reminder of the urgent need to protect freedom of expression.
About the Author
---
Ai Weiwei is one of the world's most important living artists. Born in 1957, he lives in Cambridge, UK.

Allan H. Barr is the author of a study in Chinese of a literary inquisition in the early Qing dynasty, Jiangnan yijie: Qing ren bixia de Zhuangshi shi'an 江南一劫:清人笔下的庄氏史案, and the translator of several books by contemporary Chinese authors, including Yu Hua's China in Ten Words and Han Han's This Generation. He teaches Chinese at Pomona College in California.
Praise For…
---
"[This memoir] is both intimate and expansive, an interrogation of art and freedom. . . . It's a fascinating sociopolitical history, and a behind-the-scenes look at how one of the world's most significant living artists became who he is."—Time

"1000 Years of Joys and Sorrows can be seen as another act of defiance. . . . The book [is Ai Weiwei's] effort to reclaim his country's and his family's dramatic past."—The Wall Street Journal Magazine

"Illuminating . . .a document of conviction and activism . . . a clear-eyed account of two artists working against convention, buffeted by the whims of absurdist politics."—San Francisco Chronicle

"Poignant . . . An illuminating through-line emerges in the many parallels Ai traces between his life and his father's. . . . Ai does not allow his own scraps to remain buried. To unearth them is an act of unburdening, an open letter to progeny, a suturing of past and present. It is the refusal to be a pawn—and the most potent assertion of a self."—The New York Times Book Review

"Absorbing . . . Ai Weiwei's steadfast devotion to free expression and resistance to the Chinese Communist Party's unrelenting pressures make this book glow as if irradiated with righteousness." —Orville Schell, The New York Review of Books

"This memoir is a remarkable book—and an important one. . . . 1000 Years is a breathtaking self-examination of a brave artist."—Minneapolis Star Tribune

"Ai Weiwei is one of the world's greatest living artists. He is a master of multiple media. His work is always thought-provoking, unpredictable, and immensely personal."—Elton John, author of Me

"With uncommon humanity, humbling scholarship, and poignant intimacy, Ai Weiwei recounts a life of courage, argument, defeat, and triumph. His is one of the great voices of our time."—Andrew Solomon, author of Far from the Tree: Parents, Children, and the Search for Identity and Far and Away: How Travel Can Change the World

"Like the author's brilliant installations and films, the book is an impassioned testament to the enduring powers of art—to challenge the state and the status quo, to affirm essential and inconvenient truths, and to assert the indispensable agency of imagination and will in the face of political repression."—Michiko Kakutani, author of Ex Libris: 100+ Books to Read and Reread

"This is the rarest sort of memoir, rising above the arc of history to grasp at the limits of the soul."—Edward Snowden, author of Permanent Record

"Ai Weiwei's intimate, unflinching memoir is an instant classic in the literature of China's rise, a protest against the destruction of memory, and a glorious testament to the power of free expression."—Evan Osnos, author of Age of Ambition: Chasing Fortune, Truth, and Faith in the New China

"One thousand years of joys and sorrows are here concentrated into a mere one hundred. They are years that teem with life of a startling variety. The presentation is artful and the translation exquisite."—Perry Link, author of An Anatomy of Chinese: Rhythm, Metaphor, Politics

"Revelatory and moving."—Booklist (starred review)

"Engrossing . . . Highly recommended."—Library Journal (starred review)

"Fluid, heartfelt."—Kirkus Reviews (starred review)