The Rule of Three: A Novel (Hardcover)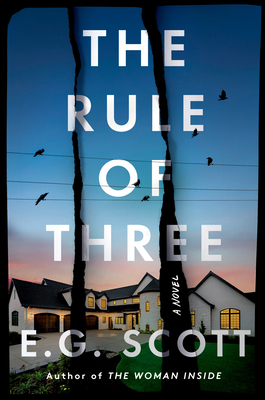 $27.00

On Our Shelves Now - May Be on Hold for Another Customer
Description
---
From E. G. Scott, the utterly gripping tale of three couples whose game night goes horribly wrong. Full of twists and turns that you'll never see coming, this is the summer read you won't be able to put down.

Once a week, three women get together for book club in Kingsland, a private, gated community full of neighbors looking to do their business away from prying eyes. On the same night, their husbands meet up to play poker, where much more is being planned than anyone could guess.
 
But on this particular night, something goes terribly wrong. When all three men end up dead or hospitalized, and the entire town is being questioned, no one seems to be able to answer the only question that really needs asking: What the hell happened?
 
This is a riveting story, not just of powerful women or vengeful men, but of secrets, neighbors, blackmail, business gone wrong, and the most intimate of desires spilling into full view.
About the Author
---
E. G. Scott is a pseudonym for two writers, Elizabeth Keenan and Greg Wands, who have been friends for over twenty years, and have been writing plays, screenplays, and short stories separately since they were kids. Their books come out of their shared love of thrillers and noir. They've collaborated on multiple projects from the beginning of their friendship, and have published two books together: The Woman Inside in early 2019, and In Case of Emergency in 2020.
Praise For…
---
Praise for The Rule of Three

"Darkness and deception lie just below the surface of Kingsland, the pristine suburban community upended by murder in The Rule of Three. A whiplash-inducing thrill ride, E.G. Scott keeps readers on tenterhooks from the propulsive first page to the surprising conclusion of this terrific summer read."
—Cristina Alger, New York Times bestselling author of Girls Like Us   

"A frantic call to 911 about a dead husband shoots this thriller right out of a cannon and lands it dead center in Stepford Wives suburbia. An intricate web of lies and misdirection follows as the body count rises and the pages begin to turn themselves. E.G. Scott has spun a wild and devious tale with The Rule of Three!" —Wendy Walker, international bestselling author of The Night Before  

"E.G. Scott crafts another satisfying thriller with The Rule of Three, where an unthinkable crime in an ultra-exclusive neighborhood leads to the unearthing of its residents' secrets. Deftly plotted, and incredibly engaging, we could not put this one down!"
—Liz Fenton & Lisa Steinke, authors of How To Save a Life

"Twisty and wicked, The Rule of Three is a cautionary tale for bad husbands everywhere. E.G. Scott has a special gift for sneaking humor and timely social observation into gripping mysteries. Pour yourself a glass of something dark for this one. It's the best thriller I've read this year."
—Brian Selfon, author of The Nightworkers

"Twist-filled…fast-paced."—Publishers Weekly

"With a gripping opening followed by flashbacks to past events to fill in the gaps, Rule of Three is twisty and oh, so satisfying." —Booklist

"There are twists and turns as the juicy drama of the rich and famous unfolds. This is a fun fireside read." —M Magazine