Caregiving with Love and Joy: An Expert's Guide to Providing the Best Alzheimer's Disease and Dementia Home Care (Paperback)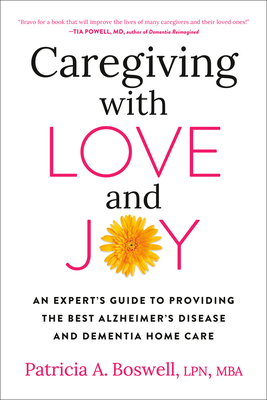 $17.00

Usually Arrives in 3-5 Days
Description
---
A revolutionary, practical, uplifting guide for the caregivers of people with Alzheimer's disease and dementia.


When it comes to caring for a loved one with Alzheimer's disease or dementia, the right caregiving can make all the difference. Here, Patricia Boswell shares structured routines, life hacks, and best practices that are evidence-based and focused on maintaining the highest possible quality of life for the entire family.

As a nurse and dementia expert, Boswell knows that the best caregivers think like a problem-solver, addressing physical and emotional issues as they come up. Whether readers are providing the care themselves, managing a caregiver, or sharing the responsibilities, this book presents the most effective tips, tricks, and small changes that can reduce stress and make life easier. This comprehensive guidebook will redefine the caregiving experience as one that can be life-affirming and enjoyable. It offers a singular resource for anyone who is looking to provide or manage outstanding daily care while maintaining—and even enhancing—their own health and mental well-being.
About the Author
---
Patricia Boswell is a licensed practical nurse (LPN) who has worked in home healthcare settings as well as in private duty nursing, hospice, group homes, and senior living centers. She is a certified dementia practitioner from the National Council of Certified Dementia Practitioners, and holds a certification Aging-in-Place Specialist designation from the National Association of Home Builders. Boswell is actively involved with the Alzheimer's Association, where she is part of the advocacy and diversity outreach team for the national organization.
Praise For…
---
"Patricia Boswell writes as if she is your warm and wise close friend, one who is a remarkably experienced nurse and caregiver. The book is full of practical knowledge and solutions for the many challenges of caregiving. I especially admire that Boswell starts with and frequently returns to the theme of self-care for the caregiver—this is the key to sustainable and loving care. Bravo for a book that will improve the lives of many caregivers and their loved ones!"—Tia Powell, MD, Dr. Shoshanah Trachtenberg Frackman Chair in Bioethics; Director, Montefiore Einstein Center for Bioethics; Professor of Epidemiology and Psychiatry, Albert Einstein College of Medicine; author of Dementia Reimagined: Building a Life of Joy and Dignity from Beginning to End

"There are significant disparities in Alzheimer's and dementia diagnosis rates, access to treatment, and quality care. But there doesn't have to be. In fact, we can begin to level the playing field right at home. Caregiving with Love and Joy provides critical lessons and pertinent information that every family can utilize to better understand Alzheimer's disease and related dementias, and then create better, more meaningful daily interactions with those who are suffering."—Goldie Byrd, PhD, Executive Director, Center for Outreach in Alzheimer's, Aging, and Community Health

"From a public health perspective, few diseases are as devastating as dementia and Alzheimer's. Yet I have seen firsthand that having the right daily care can make all the difference in the long-term success of each patient. This book provides the simple and professional steps any family can implement to make the life of their loved one more comfortable, more enjoyable, and less stressful, which is the key to better outcomes."—Takeisha C. Davis, MD, MPH, CEO, New Orleans East Hospital

"We couldn't be prouder of Patricia's excellent book. Caregiving with care is at the heart of what an LPN does, and sharing what we do best will vastly improve the life and health of anyone struggling with Alzheimer's disease or dementia."—JoAnn Shaw, LPN, Vice President, National Association of Licensed Practical/Licensed Vocational Nurses, Inc.

"When I was first diagnosed with short term dementia resulting from a pulmonary circulation disease, my wife and I were at a loss for how to move forward. Thankfully, our good friend Patricia Boswell was able to provide us with her best practices for home care, which I know are in this wonderful book. By putting Patricia's advice to work, we were able to keep me safe at home until the dementia symptoms abated, without causing harm to me or burnout to my wife."—Emmette "Em" Bryant, NBA Legend for the New York Knicks, Boston Celtics, and Buffalo Braves

"My wife Carol's journey with Alzheimer's disease was documented on 60 Minutes for over ten years, and even though I did my best as a caregiver, I wish I had this book during that time. Patricia's insights and wisdom for taking care of a loved one, as well as the caregiver, will be a blessing and offers relief to so many families like ours."—Michael Daly

"My aunt recently had a massive seizure that has left her with verbal and perhaps cognitive deficits. I sent my cousin who lives with her and is planning on being her primary caregiver in the home Caregving with Love and Joy. He says it has helped him already—and he just got it a day ago. Thank you."—Beth Moore, MD