Finally, Something Mysterious (The One and Onlys #1) (Paperback)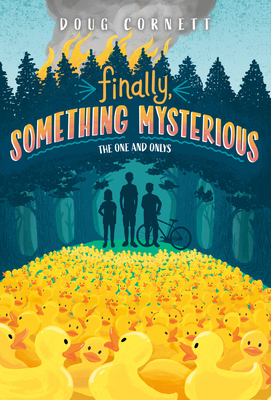 $7.99

On Our Shelves Now - May Be on Hold for Another Customer
Other Books in Series
This is book number 1 in the The One and Onlys series.
Description
---
The best mysteries can only be solved with your best friends. The perfect summer read for fans of Stuart Gibbs.

Paul Marconi has always thought that Bellwood was a strange town, but also a boring one. Not much for an eleven-year-old to do. Fires are burning nearby, Paul's parents are obsessed with winning a bratwurst contest, and his best friend, one of the founding members of their only-child detective club, the One and Onlys, is about to acquire a younger sister, sort of undoing their whole reason for existing. But then! Hundreds of rubber duckies have appeared on the lawn of poor Mr. Babbage without any explanation. Finally! There is something that Paul and his friends can actually investigate.

In the face of all these bizarre occurrences, Paul is convinced that uncovering who deposited the duckies will finally bring some sense to what has become an upside-down world. Soon the three friends have a long list of suspects, all with their own motives, but no clear culprit. When everything comes to a head at the town's annual Bellwood Bratwurst Bonanza, Paul discovers that some things don't have an easy explanation and not every mystery can be solved.

A perfect summer story about friends, amateur sleuthing, and a whole lot of rubber duckies.

"The perfect mix of hilarious and heartwarming—kids won't be able to get enough of Paul and his friends' Bellwood adventures."—Elsie Chapman, author of All the Ways Home

"Delightful fun for budding mystery fans."--Kirkus

"A diverting mystery with clever misdirection that will keep readers guessing until the end."--The Bulletin

"The quirkiness of the premise and the light, punny humor give the narrative its momentum."--Booklist

"The One and Onlys seem primed to become a popular trio among readers who enjoy an old-fashioned whodunit."--Publishers Weekly
About the Author
---
Doug Cornett received his MFA from Portland State University and in 2016 was awarded first prize for the William Van Dyke Short Story Contest from Ruminate Magazine. Finally, Something Mysterious was his first novel and he is also the author of Finally, Something Dangerous. He lives in Cleveland, Ohio, with his family. Follow him on Twitter at @MrDougCornett.
Praise For…
---
"[A] feel-good middle-grade debut…. The quirkiness of the premise and the light, punny humor give the narrative its momentum." —Booklist 

"A diverting mystery with clever misdirection that will keep readers guessing until the end." –The Bulletin