Hope: A Novel (Hardcover)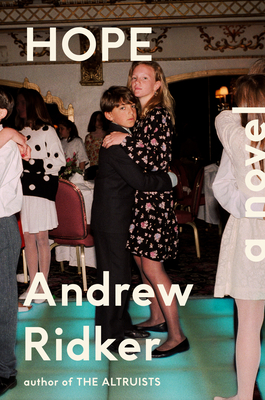 $30.00

Usually Arrives in 3-5 Days
Description
---
A NEW YORK TIMES EDITORS' CHOICE

"Riotous. . . . Hilarious . . . impeccably written . . . . Intelligent, bighearted, spew-your-gefilte-fish-funny." —The New York Times Book Review

"A writer with this much talent can take his readers anywhere." —The Washington Post

"Painfully funny. . . . This rivals Taffy Brodesser-Akner's Fleishman is in Trouble in its pitch-perfect portrayal of Jewish American life." —Publishers Weekly (starred review)

"A comedy of (bad) manners. . . . Engaging." —The Boston Globe

A hilarious and heartfelt novel about a seemingly perfect family in an era of waning American optimism, from the acclaimed author of The Altruists

The year is 2013 and the Greenspans are the envy of Brookline, Massachusetts, an idyllic (and idealistic) suburb west of Boston. Scott Greenspan is a successful physician with his own cardiology practice. His wife, Deb, is a pillar of the community who spends her free time helping resettle refugees. Their daughter, Maya, works at a distinguished New York publishing house and their son, Gideon, is preparing to follow in his father's footsteps. They are an exceptional family from an exceptional place, living in exceptional times.

But when Scott is caught falsifying blood samples at work, he sets in motion a series of scandals that threatens to shatter his family. Deb leaves him for a female power broker; Maya rekindles a hazardous affair from her youth; and Gideon drops out of college to go on a dangerous journey that will put his principles to the test.

From Brookline to Berlin to the battlefields of Syria, Hope follows the Greenspans over the course of one tumultuous year as they question, and compromise, the values that have shaped their lives. But in the midst of their disillusionment, they'll discover their own capacity for resilience, connection, and, ultimately, hope.
About the Author
---
Andrew Ridker's debut novel, The Altruists, was a New York Times Editors' Choice, a Paris Review Staff Pick, and a People Book of the Week. It was translated into more than a dozen languages. He is the editor of Privacy Policy: The Anthology of Surveillance Poetics and his writing has appeared in The New York Times, Esquire, Le Monde, and Bookforum, among other publications. He is a graduate of the Iowa Writers' Workshop.
Praise For…
---
Praise for Hope

"Riotous. . . . Franzen-esque. . . . Hilarious . . . impeccably written. . . . His comic assurance . . . is reminiscent of Meg Wolitzer. . . . Ridker['s] characters make mistakes, but they pay the price, recover and grow. . . . [T]hey soldier on and try not to lose hope. Just as we hold ours that this talented writer will keep gifting us with his intelligent, bighearted, spew-your-gefilte-fish-funny novels."
—Cathi Hanauer, The New York Times Book Review

"Absorbing . . . a vivid depiction of modern American life. . . . The novel is at once propulsive and immersive, powered by one tragicomic episode after another, right up until its final tension-filled paragraph. . . . A writer with this much talent can take his readers anywhere."
—Malcolm Forbes, The Washington Post

"A comedy of (bad) manners—the tale of a secular Jewish family in Brookline who undermine their own prosperity and happiness with a slew of bad decisions. . . . Engaging reading. . . . As these characters struggle over money and love—what other plots are there? — they stumble, fall, and gradually, tentatively, begin to right themselves."
—The Boston Globe

"This comic novel, about a year of crisis for an affluent Jewish family, opens with a dinner party at which each guest is served a meal representing a different socioeconomic background. According to the hostess, Deborah, the matriarch, the purpose of this exercise is 'to replicate, in a controlled environment, the lottery of birth.' Yet the control of the family's own environment becomes a problem after Deborah's husband, Scott, is caught falsifying data in a clinical trial. . . . Ridker's tone remains light even as his characters struggle to correct course. Writing about psychiatry's new interest in the 'transgenerational transmission of trauma' in his medical-school application, the son wonders, 'Who knows what else our parents have unwittingly passed on?'"
—The New Yorker

"In this biting satire, the well-to-do Greenspan family squirms through one very bad year, from its 80-year-old grandmother siphoning her savings to a teen online paramour, to the patriarch's alleged medical fraud."
—Keziah Weir, Vanity Fair

"Andrew Ridker's novel Hope had me laughing out loud. . . . A perfect read."
—Zibby Owens, Cup of Joe

"As with his first nov­el, Ridker's sec­ond book betrays an incred­i­ble sense of humor. . . . Char­ac­ters believe they know best while simul­ta­ne­ous­ly doubt­ing their method and fear­ing being caught; and it is this ten­sion that gives Hope a propul­sion not always seen in the fam­i­ly-nov­el genre. . . . Hope is a nov­el that thor­ough­ly explores the many con­tra­dic­tions of upper-mid­dle class Amer­i­can life in the twen­ty-first cen­tu­ry."
—Ben­jamin Selesnick, Jewish Book Council

"Ridker's slashing satire of upper-middle-class life (after The Altruists) turns on the foibles of a seemingly charmed Jewish family in Brookline, Mass. . . . Painfully funny. . . . This rivals Taffy Brodesser-Akner's Fleishman is in Trouble in its pitch-perfect portrayal of Jewish American life."
—Publishers Weekly (starred review)

"Loving and hilarious. . . . Ridker may have written the novel of early-21st-century liberal idealism."
—Shelf Awareness (starred review)

"A portrait of a tumultuous year in the life of a Jewish family in the suburbs of Boston in 2013. It takes us from Brookline to Berlin to Syria as a seemingly exceptional family undergoes a series of scandals — and ultimately, as the title suggests, finds hope."
—Nylon, "July 2023's Must-Read Book Releases"

"A funny, incisive, and keen novel of family, citizenship, and the fundamental American promise. . . . Sweeping yet intimate. Ridker's distinctive talent is his eye for both realism and comedy."
—Sanjena Sathian, author of Gold Diggers

"Hope shows us a family in freefall in the Obama-era suburbs and asks us to imagine the component parts of redemption. Leaping from nonmonogamy to research scammery, from Jewishness to Big Publishing, from filial love to filial hatred, Ridker has given us a delightful novel: capacious, mordant, bustling, and wise."
—Sarah Thankam Mathews, author of National Book Award finalist All This Could Be Different
 
"Few writers working today can be called 'laugh-out-loud hilarious' without hyperbole. With Andrew Ridker, it's no exaggeration. Ridker sees his characters with utter clarity, even as they make mistakes and grope for unreachable futures. This fidelity to life—to flawed humanity—is the source of the humor in his work, ultimately, and what makes his novels not just entertaining, but profound and moving. Hope is a wise, deeply funny book about the American dream and all its delusions and false summits."
—Lee Cole, author of Groundskeeping
 
"A brilliantly perceptive portrait of an American Jewish family, aching for connection and meaning, while everything they hoped for themselves is falling apart. Andrew Ridker's ability to capture the subtle and intimate, while simultaneously widening the lens to observe his characters in the greater historical moment, is astonishing. He's also one of the funniest writers I've ever read."
—Hanna Halperin, author of Something Wild and I Could Live Here Forever

"This is a novel full of hope and heartbreak, just like life. If a novel is meant to tell us what it means to be alive, then Hope tells what it means to live and love in the contemporary moment. Andrew Ridker is remarkably observant, equal parts ruthlessness and compassion. One of the triumphs of the book is that no one is denied their humanity. Amidst the downsizing of hope in evidence everywhere, this witty novel's main gift is its large-hearted humanism."
—Amitava Kumar, author of A Time Outside This Time
 
"In Hope, Andrew Ridker reinvigorates the family novel with wit and grace. Roaming fluidly across a broad canvas, Ridker finds the humanity in each of his characters, even (especially!) at their most exasperating and self-destructive. It was such a pleasure to spend time with a book of such warmth and intelligence."
—Andrew Martin, author of Early Work and Cool for America

"Andrew Ridker has once again proven himself an incredibly talented writer of our generation. His brilliant, funny, and heartfelt second novel, Hope, reminds us that while we all have to follow our own paths, family will almost always be there. I love this novel."
—De'Shawn Charles Winslow, author of In West Mills and Decent People

"[A] wry second novel. . . . Ridker keeps these varied plots spinning nimbly, neatly balancing broad satire with a hint of compassion for characters whose lives are spinning wildly out of control. Readers who like their family drama with a sharp edge and a generous helping of moral dilemmas will be satisfied with this one."
—Margaret Quamme, Booklist

"Set in a Jewish community in 2013 Brookline, a wealthy suburb of Boston, Hope follows the Greenspans, a privileged family who seems to have everything going for them. . . .  Over the course of one year, we get to watch as each family member goes off on radically different paths than expected in this witty, incisive dark comedy."
—Zibby Owens, GoodMorningAmerica.com