Cloud Native Go: Building Web Applications and Microservices for the Cloud with Go and React (Developer's Library) (Paperback)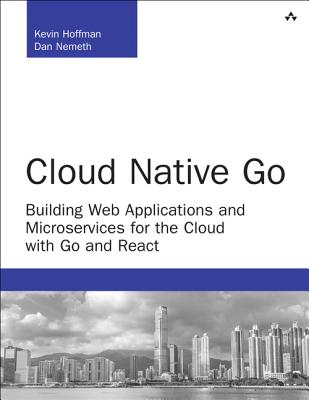 Description
---
The Complete Guide to Building Cloud-Based Services
Cloud Native Go
shows developers how to build massive cloud applications that meet the insatiable demands of today's customers, and will dynamically scale to handle virtually any volume of data, traffic, or users. Kevin Hoffman and Dan Nemeth describe the modern cloud-native application in detail, illuminating factors, disciplines, and habits associated with rapid, reliable cloud-native development. They also introduce Go, a "simply elegant" high-performance language that is especially well-suited for cloud development. You'll walk through creating microservices in Go, adding front-end web components using ReactJS and Flux, and mastering advanced Go-based cloud-native techniques. Hoffman and Nemeth show how to build a continuous delivery pipeline with tools like Wercker, Docker, and Dockerhub; automatically push apps to leading platforms; and systematically monitor app performance in production.
Learn "The Way of the Cloud" why developing good cloud software is fundamentally about mindset and discipline
Discover why Go is ideal for cloud-native microservices development
Plan cloud apps that support continuous delivery and deployment
Design service ecosystems, and then build them in a test-first manner
Push work-in-progress to a cloud
Use Event Sourcing and CQRS patterns to react and respond to enormous volume and throughput
Secure cloud-based web applications: do's, don'ts, and options
Create reactive applications in the cloud with third-party messaging providers
Build massive-scale, cloud-friendly GUIs with React and Flux
Monitor dynamic scaling, failover, and fault tolerance in the cloud
About the Author
---
Kevin Hoffman helps enterprises bring their legacy applications onto the cloud through modernization and building cloud native services in many different languages. He started programming when he was 10 years old, teaching himself BASIC on a rebuilt Commodore VIC-20. Since then, he has been addicted to the art of building software, and has spent as much time as he can learning languages, frameworks, and patterns. He has built everything from software that remotely controls photography drones to biometric security, ultra-low-latency financial applications, mobile applications, and everything between. He fell in love with the Go language while building custom components for use with Pivotal Cloud Foundry. Kevin is the author of a popular series of fantasy books ( The Sigilord Chronicles, http: //amzn. to/2fc8iES ) and is eagerly awaiting the day when he will finally be able to combine his love for building software with his love for building fictional worlds. Dan Nemeth has spent the last two decades building web and cloud systems for industries ranging from finance to pharmaceutical. He currently works at Pivotal enabling customer success with Pivotal Cloud Foundry. He now specializes in Go.