In the Midst of Winter: Selections from the Literature of Mourning (Paperback)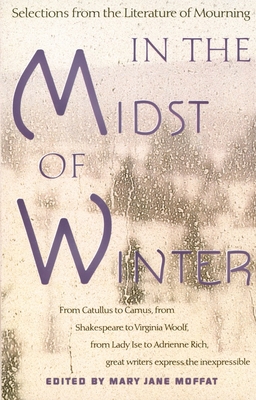 Description
---
A breathtaking, indispensable collection featuring poetry, fiction, letters, and diaries of the world's greatest writers on the nature of grief.

Death silences not only those it takes, but those it leaves behind: All too typically we can neither express our grief nor express sympathy for the bereaved. In this sensitive collection, loss finds a voice—or several voices—in the poetry, fiction, letters, and diaries of the world's great writers. Here are James Agee, recording the shock of his father's death; William Shakespeare, making poetry of Cleopatra's grief; the Biblical wisdom of The Book of Lamentations; the psychological acuity of Marcel Proust. Here are mourners from classical Rome to eleventh-century China, from the Paiute Indians to present-day Ireland. Arranged in sections that correspond to the stages of mourning, In the Midst of Winter is a volume whose breadth and resonance make it invaluable and utterly unique.
About the Author
---
MARY JANE MOFFAT earned her bachelor's and master's degrees at Stanford University, where she also taught Creative Writing in Wallace Stegner's department as a Merrilees Fellow. She also taught at San Francisco State University and the California Institute of Technology in Pasadena. She was co-editor of the feminist book, Revelations; Diaries of Women and editor of In the Midst of Winter, Selections from the Literature of Mourning.
Praise For…
---
"It is hard to have patience with people who say, There is no death or Death doesn't matter. There is death. And whatever is matters."—C.S. Lewis