Kingdom of Characters (Pulitzer Prize Finalist): The Language Revolution That Made China Modern (Paperback)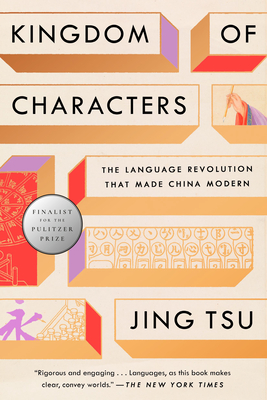 $18.00

Usually Arrives in 3-5 Days
Description
---
PULITZER PRIZE FINALIST

A New York Times Notable Book of 2022

What does it take to reinvent a language?

After a meteoric rise, China today is one of the world's most powerful nations. Just a century ago, it was a crumbling empire with literacy reserved for the elite few, as the world underwent a massive technological transformation that threatened to leave them behind. In Kingdom of Characters, Jing Tsu argues that China's most daunting challenge was a linguistic one: the century-long fight to make the formidable Chinese language accessible to the modern world of global trade and digital technology.

Kingdom of Characters follows the bold innovators who reinvented the Chinese language, among them an exiled reformer who risked a death sentence to advocate for Mandarin as a national language, a Chinese-Muslim poet who laid the groundwork for Chairman Mao's phonetic writing system, and a computer engineer who devised input codes for Chinese characters on the lid of a teacup from the floor of a jail cell. Without their advances, China might never have become the dominating force we know today.

With larger-than-life characters and an unexpected perspective on the major events of China's tumultuous twentieth century, Tsu reveals how language is both a technology to be perfected and a subtle, yet potent, power to be exercised and expanded.
About the Author
---
Jing Tsu is John M. Schiff Professor of East Asian Languages and Literatures and Comparative Literature and Chair of the Council on East Asian Studies at Yale.  She specializes in Chinese literature, history, and culture from the nineteenth century to the present, and received her doctorate in Chinese studies from Harvard. A Guggenheim Fellow, she has held fellowships and distinctions from Harvard, Stanford, and Princeton institutes.
Praise For…
---
Praise for Kingdom of Characters:

"Rigorous and engaging. . . . Languages, as this book makes clear, convey worlds." —New York Times

"A lively and insightful history of the intersection of China's information technology systems and its language revolution. The book is a richly documented, riveting, and scholarly rigorous transnational account of how Chinese evolved from a hard-to-learn script entrenched in the beleaguered Middle Kingdom in the 19th century to a global language in the 21st century." —Science

"A fascinating book" —The Economist

"A lively chronicle of the inventors who gave their all to make the Chinese script compatible with modern life." —The Guardian

"Enchanting... [Tsu's] love for the enigma and beauty of Chinese shines through in this delightful mix of history and linguistics... A pleasure to read." —The Sunday Times (London)

"Erudite and beautifully written." —Rana Mitter, The Times Literary Supplement (London)

"A well-told story about those who created modern China not through the barrel of a gun or a little red book but through dictionaries, libraries and printing presses." —The Spectator (UK)

"Stimulating." —Nature

"Interesting and very readable." —Peter Gordon, Asian Review of Books

"Pioneering" —Physics World

"[A]n immersive history of the effort to transform the written Chinese language's vast and complex set of characters into a modern communication technology . . . Tsu sheds light on the intriguing interplay between Chinese language and politics. Sinophiles and language buffs will be fascinated." —Publisher's Weekly

"Tsu's humanistic, big-picture sensibility makes an otherwise obscure thread in the history of information technology vivid and compelling." —Booklist

"An engaging, relevant work that delves into the linguistic past in order to predict China's future success in the world." —Kirkus (starred review)
 
"In Kingdom of Characters, Jing Tsu introduces us to a cast of unforgettable figures. She tells an essential story of modern China: a country at once transformed and yet deeply traditional." —Peter Hessler, author of Oracle Bones and River Town
 
"Jing Tsu wears her erudition lightly and gives us a fascinating and moving story.  It shows the passionate struggle of generations of pioneers.  It's a story of desperate strife, unflagging dedication, and ultimately, triumph." —Ha Jin, author of Waiting and War Trash
 
"A deeply engaging and revealing narrative of the Chinese language in modern times. Meticulously researched and beautifully written." —David Wang, Edward C. Henderson Professor of Chinese and Comparative Literature, Harvard University   
 
"Seldom have I read a book about modern China so informative, revelatory and enjoyable." —Simon Winchester, author of The Professor and the Madman and The Man Who Loved China

"An absolute joy to read. This stunning, meticulously researched book is the detective story of Chinese characters. Jing Tsu has seamlessly fused the craft of the linguistic historian with the artistry of the storyteller—including cliff-hangers." —David Crystal, author of How Language Works and The Stories of English