Let's Talk about Death (over Dinner): An Invitation and Guide to Life's Most Important Conversation (Paperback)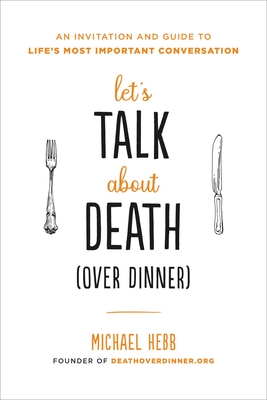 $17.99

Usually Arrives in 3-5 Days
Description
---
"These are the conversations that will help us to evolve."
--Arianna Huffington on Death Over Dinner

"Wise, poignant, compelling--Hebb tackles hard issues with honesty and good taste.
This book is food for the soul."
--- Ira Byock, MD, author of Dying Well and The Best Care Possible

Death is one of the most important topics we need to discuss—but we don't. We know why—it's loaded, uncomfortable, and often depressing. But what if death wasn't a repressed topic, but one filled with possibility, a conversation capable of bringing us closer to those we love? 
 
In Let's Talk About Death (over Dinner), Michael Hebb encourages us to pull up a chair, break bread, and really talk about the one thing we all have in common. His practical advice and thought-provoking have led hundreds of thousands of discussions—and they will help you broach everything from end-of-life care to the meaning of legacy to how long we should grieve. There's no one right way to talk about death, but with a little humor and grace, you'll transform your difficult conversations into an opportunity of celebration and meaning, changing not only the way we die, but also the way we live.
About the Author
---
Michael Hebb is a Partner at RoundGlass and the Founder of Death Over Dinner and EOL.community - a single source end of life planning website. Michael's writings have appeared in USA Today, GQ, and Food and Wine. He lives in Seattle.
Praise For…
---
"Wise, poignant, compelling--Hebb tackles hard issues with honesty and good taste. This book is food for the soul."—Ira Byock, MD, author of Dying Well and The Best Care Possible

"Michael Hebb shows us how given the right framing, a 'difficult' conversation does not need to be difficult. It can be liberating. It can even be transformative. A book about death that is expansive and filled with hope, makes us more courageous, connected and honest, well, that is irresistible."
—Esther Perel, New York Times bestselling author of Mating in Captivity and The State of Affairs

"Hebb aims to make death less taboo in all ways possible. The book ultimately offers practical advice on how to have conversations related to death, no matter the setting, yet manages to be amusing at times. This is a recommended read, to say the least."
—The Hype

"A reader-friendly guide to the conversations most people avoid having...A vade mecum that will make one's reaping a bit less grim."
—Kirkus Reviews

"Explores just how crucial discussions of death are to living a happy, fulfilling life. It's packed with lessons on how we can approach those conversations purposefully and effectively."
—Thrive Global