The Moreau Quartet: Volume One (Mass Market)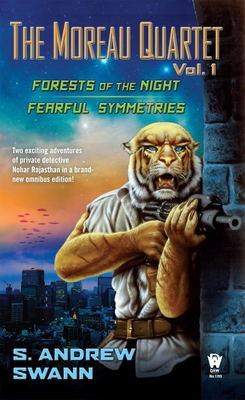 $8.99

On Our Shelves Now - May Be on Hold for Another Customer
Description
---
Combining the first and fourth novels of S. Andrew Swann's genre-spanning series, The Moreau Quartet: Volume One centers on moreau private detective Nohar Rajasthan, and includes a new afterword by the author.

 It's 2053, and the U.S. has long since genetically engineered life successfully. "Moreaus," humanoid and animal hybrids, and "frankensteins," genetically manipulated humans, live as second-class citizens.

Nohar Rajasthan is a moreau, a humanoid of tiger stock. Raised by a human after his parents' death, Nohar ekes out a career as a private eye. Mixing science fiction with detective thrillers, Nohar's story leaps off the page with all the nonstop excitement and danger of an action blockbuster.

In Forests of the Night: When Nohar accepts a commission from a frankenstein to investigate the death of the campaign manager of a local politico, all hell breaks loose. Nohar finds himself targeted by everyone from local cops to federal agents to a drug-running gang to an assassin with a 100% kill rate.

In Fearful Symmetries: Nohar retired from the private eye business ten years ago, and just wants to spend his remaining time in the peace and quiet of his wilderness homestead. So when a human lawyer asks him to take on a missing moreau case, he refuses—and soon after is attacked by a paramilitary team. Now Nohar must find the missing moreau and discover why some- one wants him dead.
About the Author
---
S. Andrew Swann lives in the Greater Cleveland area. He has a background in mechanical engineering. He has published twenty-three novels over the past eighteen years, which include science fiction, fantasy, and horror. His latest series is his epic space opera, the Apotheosis trilogy. He can be found at sandrewswann.com.
Praise For…
---
Praise for the Moreau Quartet:
"An entertaining, hard-boiled detective novel set in a gritty, relatively near-future.... If any book was meant to be made into an action-adventure movie, this is it." --Locus

"Mix in every detective novel you've ever read, include some Terminator and The Incredible Hulk, and you've got Nohar.... I look forward to more adventures." --VOYA

"Fast-paced and well-written, with a plot packed with action and suspense.... To create a credible tiger-"human with whom the reader can empathize is no mean feat, but Swann pulls it off." --Kliatt

"Here is the printed-page equivalent of an action movie: a novel as vivid as a cinema blockbuster loaded with high-budget special effects.... It also has the rhythm of an action flick, with violent fight or chase scenes occurring at frequent intervals." --The New York Review of Science Fiction