The Truth About White Lies (Paperback)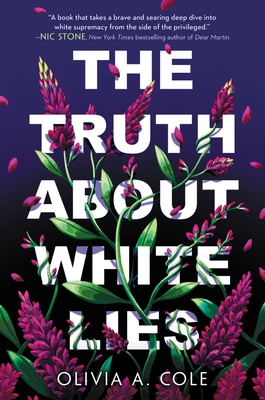 Description
---
For fans of I'm Not Dying with You Tonight, this gripping YA novel digs into the historical and present-day effects of white supremacy and the depths of privilege. 

Shania never thinks much about being white. But after her beloved grandmother passes, she moves to the gentrifying town of Blue Rock and is thrust into Bard, the city's wealthiest private school. At Bard, race is both invisible and hypervisible, and Shania's new friends are split on what they see. There's Catherine, the school's queen bee, who unexpectedly takes Shania under her wing. Then there's Prescott, the golden boy who seems perfect...except for the disturbing rumors about an altercation he had with a Black student who left the school. 

But Prescott isn't the only one with secrets. As Shania grieves for the grandmother she idolized, she realizes her family roots stretch far back into Blue Rock's history. When the truth comes to light, Shania will have to make a choice and face the violence of her silence. 
About the Author
---
Olivia A. Cole is a writer from Louisville, Kentucky. Her essays, which often focus on race and womanhood, have been published in Bitch Media, Real Simple, The LA Times, HuffPost, Teen Vogue, Gay Mag, and more. She teaches creative writing at the Kentucky Governor's School for the Arts, where she guides her students through poetry and fiction, but also considerations of the world and who they are within it. She is the author of several books for children and adults. Learn more about Olivia and her work at oliviaacole.com and follow her on Twitter @RantingOwl.
Praise For…
---
"An honest, searing look at the roots and rotten fruits of White supremacy."—Kirkus

Praise for The Truth About White Lies:

"A brilliant, riveting page turner, Cole has flawlessly crafted an addicting story about the depths and domino effect of white supremacy. Not only is this book the perfect conversation starter in the midst of our society's awakening, it'll also hold a fire under your feet. Everyone is going to be talking about THE TRUTH ABOUT WHITE LIES for years to come." 
 —Tiffany Jackson, NYT bestselling author of Grown & White Smoke

"The Truth About WhiteLies is ironically phenomenal in its narrative patience. That steadiness is what anchors and sustains an absolutely blistering critique of where white lies have placed us and how we might move more radically if, and only if, we confront these white lies and white liars. This is absolutely necessary work."
 —Kiese Laymon, award-winning author of Heavy

"The Truth About White Lies is a vicious, incendiary novel, told with clarity and precision, each word a scalpel to dissect white supremacy. Cole has crafted an unforgettable, disturbing tale of one young girl's descent into hatred, and I expect it to take YA by storm. As it should!"
 —Mark Oshiro, award-winning author of Anger Is a Gift

"A powerful, searing novel that doesn't just challenge you to get up and fight... but asks you to listen, in a story that softly builds from a whispered rumor to a shattering roar against intolerance."
 —Eric Smith, author of Don't Read the Comments

"At long last: a book that takes a brave and searing deep dive into white supremacy from the side of the privileged. The Truth About White Lies is an essential text--from a different and VITAL perspective--on contemporary American race relations. I hope it becomes required reading in every high school classroom."
 —Nic Stone, NYT bestselling author of Dear Martin

"The Truth About White Lies is a chilling reminder of the conspicuousness of white supremacy, the unspoken rules of "white club", and just how easy it is to fall prey to its appeal unless you're unflinchingly self-aware and actively working against it. This is brilliant, brutal, and essential reading for all."
 —Ashley Woodfolk, acclaimed author of The Beauty that Remains