Son of the Old West (Hardcover)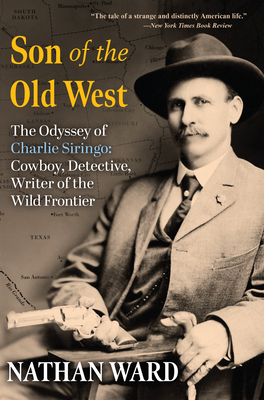 $28.00

Usually Arrives in 3-5 Days
Description
---
An epic narrative of
the Old West told through the vivid, outsized life of cowboy, detective,
and chronicler Charlie Siringo
No figure in the Old West lived or
shaped its history more fully than Charlie Siringo, as Nathan Ward reveals in his colorful portrait of this epic era and one of its primary protagonists.
Born in Matagorda, Texas
in 1855, Charlie went on his first cattle drive at age twelve and spent two decades
living his boyhood dream as a cowboy. As the dangerous, lucrative "beeves"
business boomed, Siringo drove longhorn steers north to the burgeoning Midwest
Plains states' cattle and railroad towns, inevitably crossing paths with such
legendary figures as Billy the Kid, Bat Masterson, and Shanghai Pierce. In his
early thirties he joined the Pinkerton Detective Agency's Denver office, using
a variety of aliases to investigate violent labor disputes and infiltrate
outlaw gangs such as Butch Cassidy's train robbing Wild Bunch. As brave as he
was clever, he was often saved by his cowboy training as he traveled to places
the law had not yet reached.
Siringo's
bestselling, landmark 1885 autobiography, A Texas Cowboy, helped
make the lowly cowboy a heroic symbol of the American West. His later
memoir, A Cowboy Detective, influenced early hard-boiled crime
novelists for whom the detective story was really the cowboy story in an urban
setting. Sadly sued into debt by the Pinkertons determined to prevent their
sources and methods from being revealed, Siringo eventually sold his beloved New Mexico
ranch and moved to Los Angeles, where he advised Hollywood filmmakers, and
especially actor William S. Hart, on their early 1920s Westerns, watching the
frontier history he had known first-hand turned into romantic legend on the
screen.
In old age,
Charlie Siringo was called "Ulysses of the Wild West" for the long journey he
took across the western frontier. Son of the Old West brings
him and his legendary world vividly to life.
About the Author
---
NATHAN WARD is the author of The Lost Detective: Becoming Dashiell Hammett, which was nominated for the Edgar and Anthony awards, as well as Dark Harbor: The War for the New York Waterfront. He has written for the New York Times, Wall Street Journal, Crimereads, and Westword and was an editor at American Heritage Magazine for several years. Though he lives in Brooklyn, NY, he has had a lifelong interest in the American West and its history.