Stupid Things I Won't Do When I Get Old: A Highly Judgmental, Unapologetically Honest Accounting of All the Things Our Elders Are Doing Wrong (Paperback)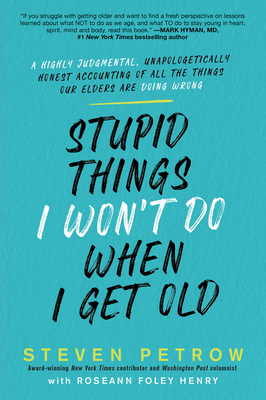 Description
---
An instant classic, USA Today and Washington Post etiquette reporter Steven Petrow's touching, thoughtful, and often witty look at how life changes as you move into your golden years – and how to meet those changes with humor, grace, intention, and plenty of chocolate.

For fans of David Sedaris and Nora Ephron, a humorous, irreverent, and poignant look at the gifts, stereotypes, and inevitable challenges of aging, based on award-winning journalist Steven Petrow's wildly popular New York Times essay, "Things I'll Do Differently When I Get Old."

parents were doing wrong. That list, which included "You won't have to shout at me that I'm deaf," and "I won't blame the family dog for my incontinence," became the basis of this rousing collection of do's and don'ts, wills and won'ts that is equal parts hilarious, honest, and practical.

The fact is, we don't want to age the way previous generations did. "Old people" hoard. They bore relatives—and strangers alike—with tales of their aches and pains. They insist on driving long after they've become a danger to others (and themselves). They eat dinner at 4pm. They swear they don't need a cane or walker (and guess what happens next). They never, ever apologize. But there is another way...

In Stupid Things I Won't Do When I Get Old, Petrow candidly addresses the fears, frustrations, and stereotypes that accompany aging. He offers a blueprint for the new old age, and an understanding that aging and illness are not the same. As he writes, "I meant the list to serve as a pointed reminder—to me—to make different choices when I eventually cross the threshold to 'old.'"

Getting older is a privilege. This essential guide reveals how to do it with grace, wisdom, humor, and hope. And without hoarding.
About the Author
---
Steven Petrow is an award-winning journalist and author best known for his Washington Post and New York Times essays on aging, health, and civility. He's currently an opinion columnist covering manners and civil discourse for USA Today, and his 2019 TED Talk, "3 Ways to Practice Civility" has been viewed nearly two million times and translated into 16 languages. Formerly the host and executive producer of "The Civilist," a podcast from Public Radio International and North Carolina Public Radio WUNC, Steven regularly appears on television and radio. He's the author of six books, including Steven Petrow's Complete Gay & Lesbian Manners and Stupid Things I Won't Do When I Get Old. A former president of NLGJA: The Association of LGBTQ Journalists, Steven is the recipient of numerous awards and grants, including those from the National Endowment for the Humanities, the Smithsonian Institution, the Ucross Foundation, the Virginia Center for the Creative Arts, and the National Press Foundation. In 2017, he became the named sponsor of the Steven Petrow LGBTQ Fellowship at the VCCA, a prize that is awarded annually. Steven lives in Hillsborough, N.C. with his cocker spaniel, Binx Bolling. Please visit him online at StevenPetrow.com.

Praise For…
---
Praise for Stupid Things I Won't Do When I Get Old:
 
"Mr. Petrow….gives us a blueprint for aging gracefully." —The New York Times

"Unbelievably witty and relatable, I alternated bursting into laughter and placing my hand over my face in horror thinking, Oh my God, is that me? I often say, at this age we have something young people can never have…wisdom. My dear friend, Steven Petrow, has wisdom to share in this honest, funny, wry guide to keep us young at heart, without desperately hanging onto our youth. I am buying this book for all of my friends!" —Suzanne Somers, New York Times bestselling author of A New Way to Age
 
"Stupid Things I Won't Do When I Get Old is an irreverent, funny, honest look at aging and all the things we take for granted as normal parts of aging. They don't need to be. If you struggle with getting older and want to find a fresh perspective on lessons learned about what NOT to do as we age, and what TO do to stay young in heart, spirit, mind and body, read this book." —Mark Hyman, MD, #1 New York Times bestseller author of The Blood Sugar Solution 10-Day Detox Diet, and Head of Strategy and Innovation at the Cleveland Clinic Center for Functional Medicine.
 
"Steven Petrow resolved to do things differently than his parents had when he gets old because he wished they'd been able to enjoy life more. His solution? He created a list! In this book, he shares the secrets to living a full life regardless of our age. It's all about the decisions we make every day. My advice in a nutshell: Read this book and keep it handy." —"Dear Abby" (Jeanne Phillips), nationally syndicated advice columnist
 
"It's never too early to imagine what your life will look like as you age.  And as I once wrote, 'We are not hostages to our fate.' Petrow's book will help you plan, think, and redefine what it means to get older—and even laugh while doing it." —Andrew Weil, MD, New York Times bestselling author of Spontaneous Healing and Healthy Aging: A Lifelong Guide to Your Well-Being
 
"Steven Petrow not only has a great attitude about life, he is wise about how to live it. Like me, he says we should embrace our one life 100% and not let a number—our age—get in the way of anything! Steven's book will help you rethink the word "aging" and approach this next chapter with a positive and proactive attitude. Plus, this book is fun!" —Denise Austin, renowned fitness expert, author, and columnist  

"Steven's writing feels like sitting with a friend—one who is unusually gracious, warm and frank." —Carolyn Hax, author of the nationally syndicated advice column