Near to the Wild Heart (Paperback)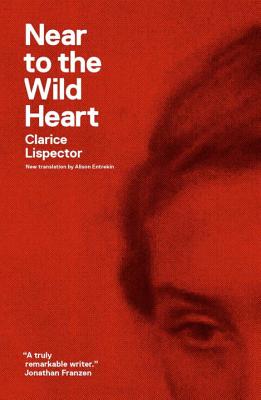 $15.95

Usually Arrives in 3-5 Days
Description
---
This new translation of Clarice Lispector's sensational first book tells the story of a middle class woman's life from childhood through an unhappy marriage and its dissolution to transcendence.
Near to the Wild Heart, published in Rio de Janeiro in 1943, introduced Brazil to what one writer called "Hurricane Clarice": a twenty-three-year-old girl who wrote her first book in a tiny rented room and then baptized it with a title taken from Joyce: "He was alone, unheeded, near to the wild heart of life."
The book was an unprecedented sensation — the discovery of a genius. Narrative epiphanies and interior monologue frame the life of Joana, from her middle-class childhood through her unhappy marriage and its dissolution to transcendence, when she proclaims: "I shall arise as strong and comely as a young colt."
About the Author
---
Clarice Lispector (1920–1977), the greatest Brazilian writer of the twentieth century, has been called "astounding" (Rachel Kushner), "a penetrating genius" (Donna Seaman, Booklist), and "one of the twentieth century's most mysterious writers" (Orhan Pamuk).

Alison Entrekin has translated a number of works by Brazilian and Portuguese authors into English, including City of God by Paulo Lins and Budapest by Chico Buarque.

General editor of the new translations of Clarice Lispector's complete works at New Directions, BENJAMIN MOSER is the author of Why This World: The Biography of Clarice Lispector, and Sontag: Her Life and Work, which was awarded the Pulitzer Prize. His new book, The Upside-Down World: Meetings with the Dutch Masters, will be published in October.
Praise For…
---
Her images dazzle even when her meaning is most obscure, and when she is writing of what she despises she is lucidity itself.
— The Times Literary Supplement

Lispector is one of the hidden geniuses of twentieth century literature, in the same league as Flann O'Brien, Borges and Pessoa… utterly original and brilliant, haunting and disturbing.
— Colm Tóibín

A truly remarkable writer.
— Jonathan Franzen

We now finally have a translation worthy of Clarice Lispector's inimitable style. Go out and buy it.
— The Guardian

It is jarring and yet restorative to read a writer whose focus is so private, internal.
— Boston Globe

One of 20th-century Brazil's most intriguing and mystifying writers.
— The L Magazine

There's a feeling of encountering something completely new and classic at the same time.
— Time Out Chicago

I had a sort of missionary urge with her...but I started thinking, even when I was 19: How can I help this person reach the prominence she deserves?
— Benjamin Moser - San Francisco Chronicle

You could breeze through it, you could let it marinate, or you could reread it twice in one sitting.
— Vanity Fair