The Last 100 Days: The Tumultuous and Controversial Story of the Final Days of World War II in Europe (Modern Library War) (Paperback)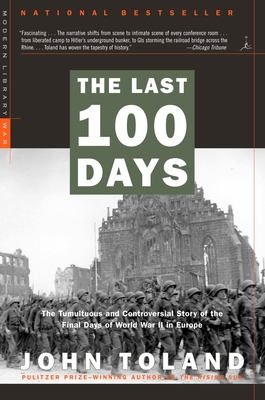 Description
---
A dramatic countdown of the final months of World War II in Europe, The Last 100 Days brings to life the waning power and the ultimate submission of the Third Reich. To reconstruct the tumultuous hundred days between Yalta and the fall of Berlin, John Toland traveled more than 100,000 miles in twenty-one countries and interviewed more than six hundred people—from Hitler's personal chauffeur to Generals von Manteuffel, Wenck, and Heinrici; from underground leaders to diplomats; from top Allied field commanders to brave young GIs. Toland adeptly weaves together these interviews using research from thousands of primary sources.

When it was first published, The Last 100 Days made history, revealing after-action reports, staff journals, and top-secret messages and personal documents previously unavailable to historians. Since that time, it has come to be regarded as one of the greatest historical narratives of the twentieth century.
About the Author
---
John Toland was one of the most widely read military historians of the twentieth century. His many books include Ships in the Sky; Battle: The Story of the Bulge; But Not in Shame; The Rising Sun; Adolf Hitler; and No Man's Land. Originally from Wisconsin, he lived in Connecticut for many years with his wife.
Praise For…
---
"Fascinating . . . The narrative shifts from scene to intimate scene of every conference room . . . from liberated camp to Hitler's underground bunker, to GIs storming the railroad bridge across the Rhine. . . . Toland has woven the tapestry of history." —Chicago Tribune

"A hundred stories fill out these hundred days—portraits, battle plans, ironies, feats of espionage, mass brutalities, insanity, diplomats, generals, soldiers, snipers, the cool and the fanatic. Hitler's horoscope, what General Eisenhower was reading on the morning of surrender, Quisling's final auto ride, orders,
counterorders, impatient statesmen, conflicting strategies, the stench of fire and death, telegrams to Moscow, plunging armies, straggling refugees. . . . In fascinating and exhaustively researched detail—it is all here!" —The New York Times

"Brilliant . . . The reader is in suspense throughout. . . . Each scene is played out close-up and point-blank, as if one were there, listening to the dialogue, counting the stakes, feeling the emotions of the principals." —The New York Times Book Review