Swedish Chicago: The Shaping of an Immigrant Community, 1880–1920 (Paperback)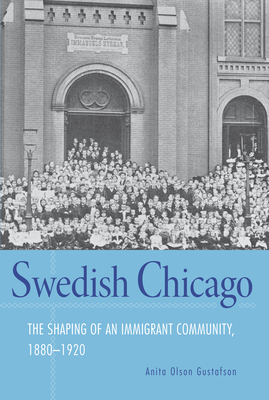 $42.00

Usually Arrives in 3-5 Days
Description
---
Between 1880 and 1920, emigration from Sweden to Chicago soared, and the city itself grew remarkably. During this time, the Swedish population in the city shifted from three centrally located ethnic enclaves to neighborhoods scattered throughout the city. As Swedes moved to new neighborhoods, the early enclave-based culture adapted to a progressively more dispersed pattern of Swedish settlement in Chicago and its suburbs. Swedish community life in the new neighborhoods flourished as immigrants built a variety of ethnic churches and created meaningful social affiliations, in the process forging a complex Swedish-American identity that combined their Swedish heritage with their new urban realities.

Chicago influenced these Swedes' lives in profound ways, determining the types of jobs they would find, the variety of people they would encounter, and the locations of their neighborhoods. But these immigrants were creative people, and they in turn shaped their urban experience in ways that made sense to them. Swedes arriving in Chicago after 1880 benefited from the strong community created by their predecessors, but they did not hesitate to reshape that community and build new ethnic institutions to make their urban experience more meaningful and relevant. They did not leave Chicago untouched—they formed an expanding Swedish community in the city, making significant portions of Chicago Swedish. This engaging study will appeal to scholars and general readers interested in immigration and Swedish-American history.
 
About the Author
---
Anita Olson Gustafson is dean of the College of Liberal Arts and professor of history at Mercer University. She holds a BA in Swedish and economics from North Park University and a PhD in history from Northwestern University. She has authored several articles on Swedish immigration to America.
 
Praise For…
---
"This book draws together better than any other on Chicago's ethnic Swedes a complete picture of immigrant ethnic identity construction with a compelling narrative, utilizing varied supportive primary sources. Gustafson peppers the text with rich historical sources, and we hear many immigrant voices along the way. The quotes are insightful and help the reader to understand immigrant life in Chicago at the turn of the twentieth century."
—Kurt W. Peterson, contributor to Norwegians and Swedes in the United States: Friends and Neighbors
 
"Anita Olson Gustafson offers a thorough account of the efforts of Chicago Swedish-Americans to preserve their sense of themselves and their culture in the ethnic and social maelstrom of turn-of-the-century Chicago, maintaining that even after the city's original Swedish-American neighborhoods were abandoned to other ethnic and racial groups and the immigrants and their children had moved in to new, often suburban areas, they preserved a sense of their unique identity through their religious and cultural institutions. Her work is well-documented, clearly written, and persuasive."
—Thomas Tredway, emeritus president and professor of history, Augustana College