Jack Comes Back: Tales of the Eternal Dog, Volumes 1-4 (Paperback)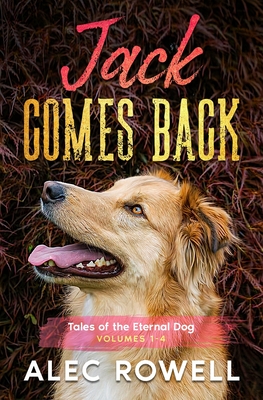 $19.19

Usually Arrives in 3-5 Days
(This book cannot be returned.)
Description
---
There are a billion dogs on planet Earth.
Dogs chose humans.
Clearly ancient canine ancestors made the right choice throwing in their lot with the savage omnivores that were our distant ancestors. Neither species would be what they are today without the other.
But what did humans get out of this deal? Guardians, shepherds, hunters, pets, companions, nurses, public health & safety, soldiers, messengers, therapists, entertainers: in a word, dogs.
This is the story of Jack, the Eternal Dog. It begins 70,000 years ago with a brown-and-silver proto-dog puppy. His packmates know him as Bites Back. He seldom starts trouble, but he never quits when it comes his way.
As he rises to leadership, one difficult decision leads to another, and his fateful path doesn't end upon his death. It is just the beginning of his legend. For in the afterlife, he's offered a chance to reincarnate and join the scary "two legs" his pack so often competed with for prey. Bites Back makes his bold decision. Again and again he returns, in a different body each time, always retaining his essence-the great spirit of Jack, the Eternal Dog.
From the strange, spare world of Yaqui the Xoloitzcuintli to the trenches of World War I to the wild forests of British Columbia, share the danger, the uncertainty, the savagery of survival that confronts Jack and his human companions.
Struggle with Iace, the Roman fighting mastiff as he pulls a 1,000 pounds of marble up a slippery ledge-death waiting below, slim chance of freedom ahead. Plunge across the treacherous stone slopes of sacred Bam-i-Yan in medieval Afghanistan with the swift Zwak; transform from stone Kami to Demon Dog with the supernatural Inujiki. Run through the vivid streets of Shakespeare's London with doughty little Dunsey, Queen Elizabeth's Pocket Beagle, and the dashing Jackanapes. Finally, ponder with Jackie the rescued golden retriever how she can use her worn-out body to watch over her new family: an autistic boy, a rambunctious toddler, and an overworked distracted Mom. Through the journey, reflect on the enduring connection between a dog and their humans.
These and other stories of the lives of Jack are here, ranging from Asia to North America to Europe, Eurasia, and Africa, spanning 70,000 years of challenges.
Jack Comes Back: Tales of the Eternal Dog includes all the contents of Volumes 1-4 of Jack's story: STONE DOG, IRON DOG, GOLD DOG, & STEEL DOG.
If you were touched by the valor, excitement, loyalty, and humor of the dogs in Old Yeller, A Dog's Purpose, Old Yeller, or Dean Koontz's Watchers, come and enter Jack's worlds. He'll welcome you just as warmly as he has so many other humans.
Alec Rowell's Jack Comes Back is available now in paper. Watch for it in ebook and audiobook versions in early 2022.