The Boy Who Invented Television (Hardcover)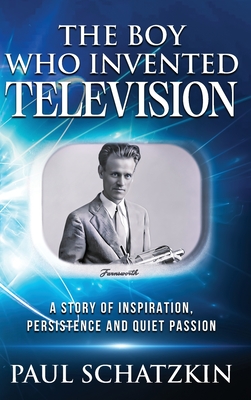 $32.99

Usually Arrives in 3-5 Days
Description
---
In the summer of 1921, Philo T. Farnsworth was not all that different from any other farmer's son in rural Idaho, until he came up with an idea that would change the world - and thrust him into a titanic struggle with one of the most monolithic monopolies in the world.
Farnsworth's story of divine inspiration facing off against corporate avarice is a compelling - though seldom told - saga from the 20th century that is still relevant in the 21st century.
After proving his idea would work in 1927, Farnsworth was on the cusp of fame and fortune - until a competitor showed up in his laboratory under false pretenses in 1930. The Boy Who Invented Television is the definitive account a once-in-a-century prodigy and his epic effort to fend of an industrial juggernaut - David Sarnoff's Radio Corporation of America. Author Paul Schatzkin's diligent independent research exposes an essential historical narrative that has been swept under the rug of corporate public relations.
From this intimately told tale - drawn from the author's long-standing personal relationship with the Farnsworth family and surviving colleagues, you'll learn:
...of the scientific breakthrough - based on the theories of Albert Einstein - that made television possible;
...how every video screen on the planet - including the one you are looking at now - can trace its origins to a sketch that Farnsworth drew for his high school science teacher in 1922 - when he was 14 years old
...how the legal and financial struggles Farnsworth endured resulted in his relative obscurity today, and...
...how the insights that made television possible led him to the Holy Grail of modern science: clean and abundant energy from controlled nuclear fusion.
By telling the story of a man few people have heard of - whose invention we use every day - this biography is a 'must read' for anybody who watches television.
Buy The Boy Who Invented Television - and awaken the incredible genius that comes alive everytime you turn on your TeeVee - or look at your smartphone
​​​​​​​
More at https: //farnovision.com
___________
(First published in 2002, this 2023 reissue includes a new Foreword that ties this book to the author's newest release, The Man Who Mastered Gravity (ASIN #B0BYQ41GM6), and an Afterword account of more recent events recognizing Farnworth's indispensable contribution - including his induction into the Television Academy's Hall of Fame in 2013.)